Concordia fundraiser tops $5 million for students
150 Quebec business leaders turned out for the 15th annual Golf Classic
Posted on September 13, 2018
|
Concordia's 15th annual Golf Classic tournament set a new record! Thanks to sponsors and participants, the university raised $390,000 for scholarships and bursaries for deserving students.
This brings the total to $5.34 million since the tournament's inception, benefiting more than 1,000 Concordia students. More than 150 business leaders and friends of Concordia converged at Golf Griffon des Sources in Mirabel, Que., for the September 4 tournament.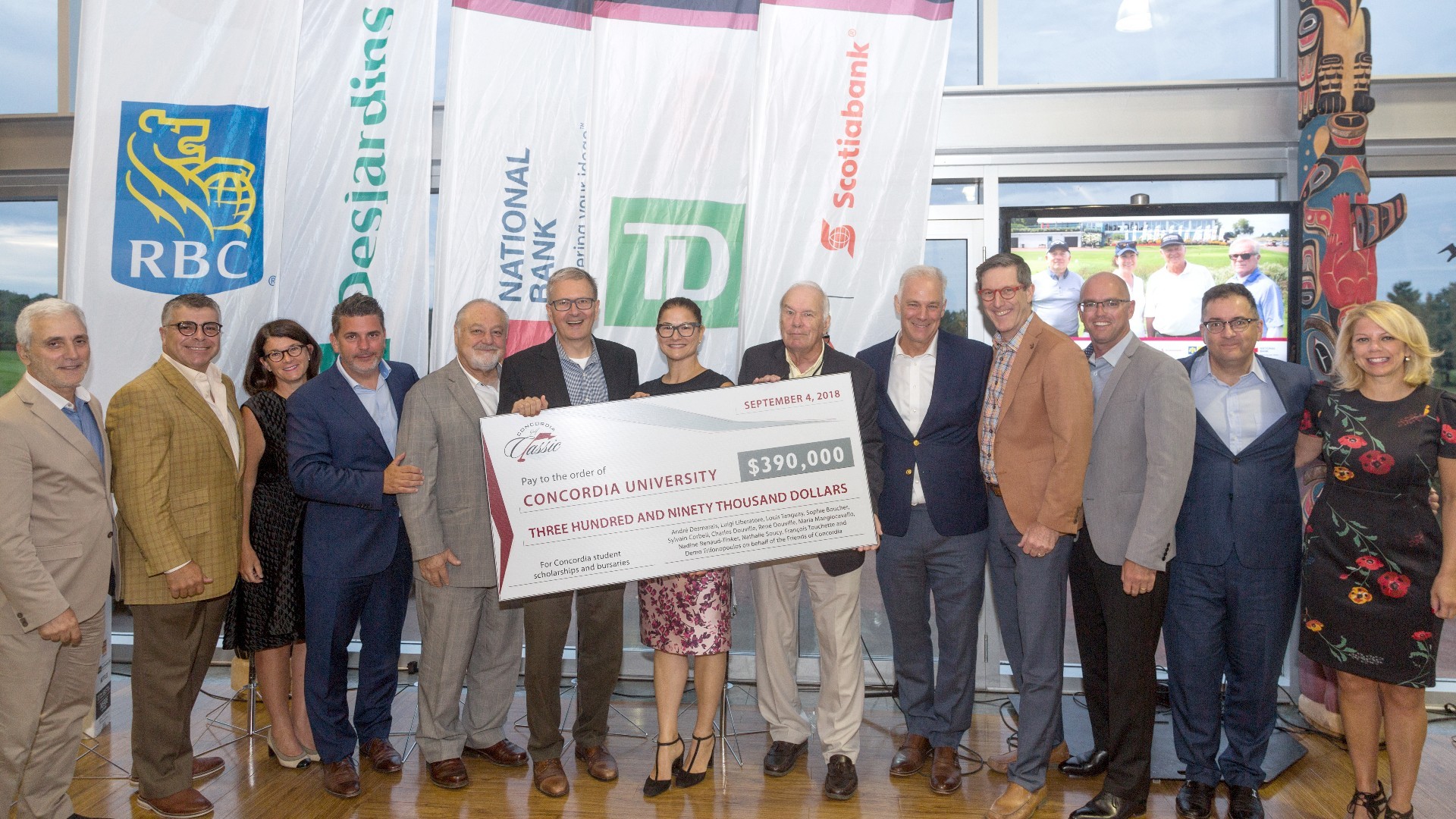 Joseph Capano
, principal director of development, John Molson School of Business and Special initiatives (far left) and Concordia President
Alan Shepard
(centre, in black suit), with the team of honorary chairs and co-presidents, from left:
François Touchette
, vice-president and managing director, National Client Group — Canada, National Bank;
Nathalie Soucy
, head of sales, vice-president, Business Services, Desjardins Group;
Sylvain Corbeil
, senior vice-president, TD Commercial Banking, Quebec and Atlantic Regions, TD Bank Group;
Luigi Liberatore
;
Maria Mangiocavallo
, BComm 86, GrDip 89, vice-president and head, Commercial Banking and Roynat Capital, Quebec Region, Roynat/Scotiabank;
Louis Tanguay
, BComm 75, corporate director;
Charles Douville
, BComm 84, senior vice-president, head of Commercial Banking – Quebec Region, HSBC Bank Canada;
René Douville
, head, Corporate Finance Division – Quebec, BMO Bank of Montreal;
Jean-François Prince
, regional vice-president, Business Financial Services – Quebec Headquarters, RBC Royal Bank;
Demo Trifonopoulos
, BComm 85, vice-president and region head — Quebec, CIBC Commercial Banking;
Sophie Boucher
, vice-president and head, Commercial Banking and Syndication, Business Services, Laurentian Bank. Missing are:
André Desmarais
, BComm 78, LLD 07, deputy chairman, president, co-CEO, Power Corporation of Canada;
Nadine Renaud-Tinker
, president, Quebec Headquarters, RBC Royal Bank
"Bursaries and scholarships like these help Concordia remain the inclusive university it's always been," said Concordia President Alan Shepard. "We thank all our sponsors and our external leadership committee — honorary chairs and co-presidents — for their generosity."
Past Golf Classic bursary recipient Emma Alguire, BComm 18, spoke on behalf of her peers: "Your support goes beyond providing a means of financial support for young people like me. It represents ongoing encouragement and a belief in what we can accomplish with a little help."
Funds raised at the tournament will contribute to the Campaign for Concordia. Next-Gen. Now. The university's most ambitious fundraising campaign ever aims to raise $250 million to deliver next-generation teaching and learning to Concordia students.
Find an expert
Search for an expert to comment on any topic
Enter a phrase or keyword
---