Mireille Paquet, PhD
Assistant Professor, Political Science

---
Office:
S-H 1225-7
Henry F. Hall Building,
1455 De Maisonneuve W.
Phone:
(514) 848-2424 ext. 2111
Email:
mireille.paquet@concordia.ca
Availability:
Office hours: Tuesday, 15:00 to 17:00

Take an appointment here:
https://www.wejoinin.com/sheets/apndq


---
Mireille Paquet studies public policies for immigrant selection and immigrant integration in Canada and in other traditional immigrant-receiving societies. Her current work – funded by the SSHRC and by the FQRSC – focuses on the governance of immigration and integration policies in federal regimes (Canada, United States and Australia), with a specific attention to the activism and activities of subnational units. Dr. Paquet is also conducting research on public administration and immigration, and is especially interested in the role of public servant in the formulation of immigrant selection policies. In the past, she has also conducted research on citizenship policy, citizenship tests and civic integration, immigration integration in Canada and on policies to attract and integrate newcomers in francophone minority communities.
Mireille Paquet is a winner of the 2016/2017 Concordia University Research Award (Person and Society).
Dr. Paquet directs the Centre for Immigration Policy Evaluation (CIPE).
Mireille is interested in supervising graduate student research in the following areas: immigration policies and politics in Canada (provinces and federal), immigration public policy development and immigration policy implementation. Mireille est heureuse de superviser des étudiants en français et in English !
Education
PhD (Université de Montreal)

Research interests
Public policy and public administration, immigration and integration (policies and processes), federalism as well as Canadian and Québec Politics.
Other faculty and professional positions
Pathway to Prosperity Canada
Centre on Governance, University of Ottawa
Centre de recherche en immigration, ethnicité et citoyenneté (CRIEC)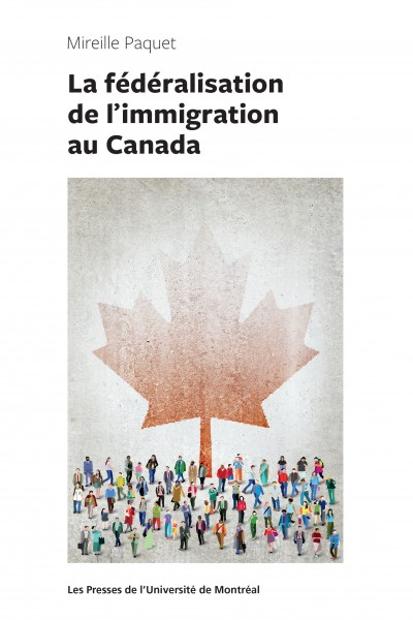 La fédéralisation de l'immigration au Canada (2016)
---
Selected publications
Mireille Paquet. 2016. La fédéralisation de l'immigration au Canada. Montréal: Les Presses de l'Université de Montréal.
Mireille Paquet. 2015. " Bureaucrats as Immigration Policy-makers: The Case of Subnational Immigration Activism in Canada, 1990–2010." Journal of Ethnic and Migration Studies. http://dx.doi.org/10.1080/1369183X.2015.1023185
Mireille Paquet. 2014. " La construction provinciale comme mécanisme : le cas de l'immigration au Manitoba." Politique et sociétés 33 (03): 101-103. http://id.erudit.org/iderudit/1027942ar
Mireille Paquet. 2014. "The Federalization of Immigration and Integration in Canada." Canadian Journal of Political Science: 47 519-548. http://dx.doi.org/10.1017/S0008423914000766
Mireille Paquet et Caroline Andrew. 2014. « Les réseaux de soutien à l'immigration francophone de l'Ontario : résultats, adaptations et points de tension d'une expérience de gouvernance communautaire». Dans Linda Cardinal et Éric Forgues, dirs., Governance communautaire et innovations au sein de la francophonie néobrunswickoise et ontarienne. Ste-Foy: Presses de l'Université Laval, 69-96.
Mireille Paquet. 2014. " Bringing the Bureaucrats Back In." Newsletter of the American Political Science Association Organized Section on Migration and Citizenship (2)1: 53-57.
Mireille Paquet. 2012. "Beyond Appearances: Citizenship Tests in Canada and the UK ". Journal of International Migration and Integration 13 (2) : 243-260.
Irene Bloemraad et Mireille Paquet. 2012. "Immigrant Integration in Canada". Dans Rick Valelly, dir., Oxford Bibliographies Online: Political Science. New York: Oxford University Press.
Mireille Paquet et François Houle, 2009. « Les institutions et les idées. Les réformes parlementaires et l'avenir de la démocratie au Canada». Dans Dimitrios Karmis et Linda Cardinal, dirs., Les politiques publiques au Canada. Pouvoir, conflits et idéologies. Ste-Foy : Presses de l'Université Laval, 59-82.
---
Teaching activities
POLI 328 Public Policy and Politics of Equality
POLI 341 Provincial and Territorial Politics
POLI 352 Principles of Public Policies
POLI 489G Immigration, Integration and the State
POLI 636 Theories of Public Policy and Public Administration
---
Recent media appearances