The Webster Library's 4th floor book collection returns this fall
Place your off-site storage hold requests by August 7
Posted on July 14, 2017
|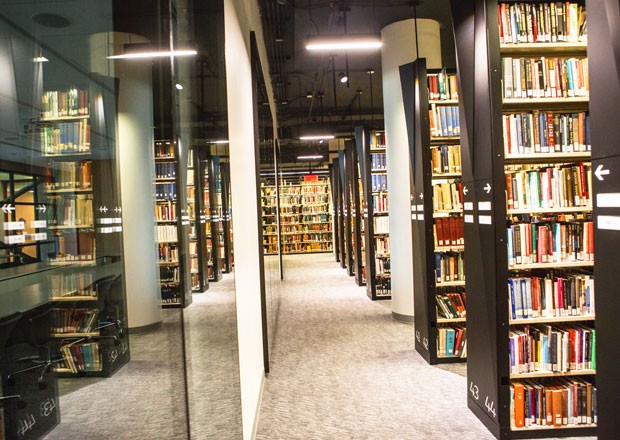 The Webster Library Transformation has increased study space as well as space to hold the print collection.

The start of the fall 2017 term brings good news from Concordia Library.
Books from the 4th floor of its Webster location, temporarily housed in off-site storage to facilitate the Webster Library Transformation, will return by September 5.
The volumes include those with call numbers ranging from H to QA 76.79 from the following disciplines: cinema, computer science, economics, education, finance, fine arts, languages, law, literature, management, mathematics, music, political science and sociology.
Keep in mind that from August 8 to September 4, Concordia Library staff will not be able to treat your hold requests, as items will be inaccessible during the move. Be sure to request any books you need from off-site storage by August 7.

How to request library books from off-site storage
Concordia students, faculty and staff can request books by placing a hold request through the discovery search or the library web catalogue.

You will receive a notification via email when items are ready for pickup. They will remain on the Webster Hold Requests Shelf or at the Vanier Circulation Desk for up to seven days.

From August 8 to September 4, books from Concordia Library's general collection will be renewable an unlimited number of times, subject to recall by another user.

Don't miss the August 7 deadline!

Find out more about Concordia Library off-site storage.
Find an expert
Search for an expert to comment on any topic
Enter a phrase or keyword
---