Alan Shepard: 'We're well positioned to take a leadership role'
In an address to the Montreal Council on Foreign Relations, Concordia's president makes the case for 'working together, across borders, to build a better world'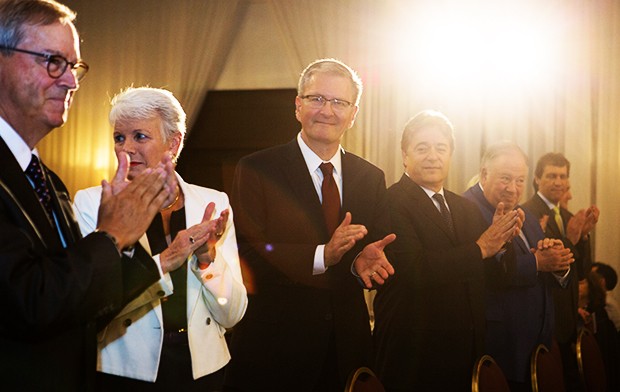 How do we square technological change's awe-inspiring pace with the continued pain and suffering of so many?
That question anchored an address by Concordia's president Alan Shepard to the Montreal Council on Foreign Relations (CORIM) on May 10 at the Plaza Centre-Ville.
All over the globe, Shepard said, gaps in prosperity, opportunity and safety are leading to fear, restless anxiety, isolationism and regressive nationalism.
"It's at times of acute suffering that a society might turn inward, raise the drawbridge, withdraw into itself. We see this in the election of Donald Trump and the Brexit vote in the UK."
At such times, "liberal democracies need to get more serious about reducing the gaps between citizens," he said. "They need to give hope to everyone."
But how? Through education, green technology, innovative infrastructure and global networks.
Rather than surrendering to cynicism and ennui, "we should double down on working together, and across borders, to build a better world."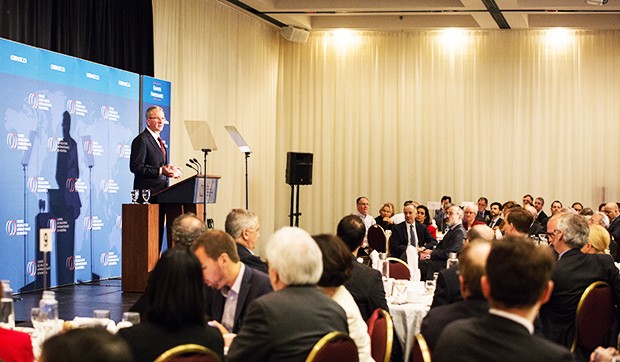 'Deep democracy craves innovation'
As Montreal marks its 375th anniversary and Canada its 150th, "we're well positioned to take a leadership role," he said.
Shepard pointed to support for the green tech industry, worth an estimated $1.35 trillion globally, as a clear way to boost the local economy while helping to clean up the planet.
"The energy of the technology revolution can be marshalled for good," he said. "Green tech allows more progress, more trade, more life together in a way that protects the planet, that protects people, that allows us to close the gaps in income and health."
Shepard cited "world leaders" among his colleagues at Concordia who "research how to design buildings that produce more energy than they consume. They are also investigating how to convert forestry and agricultural by-products into green biofuel."
He called for a strengthening of existing virtual links between cities and nations.
"Deep democracy craves innovation, entrepreneurial energy, the collision of competing ideas," Shepard said, pointing out that Montreal ranks among the world's top startup ecosystems.
Concordians contribute via initiatives like the District 3 Innovation Center, the Temps Libre community workspace, a partnership with Quartier de l'Innovation and the Maison de l'innovation sociale.
Experiential learning programs like the Institute for Co-operative Education also play a key role, Shepard said, as universities must encourage their graduates to be global citizens.
"We have a duty to help students cross the boundaries of their formation and imagination, while enabling them to experience difference and discovery."