First Peoples' exhibition shapes student's future
Art history co-operative education student benefits from experience at McCord Museum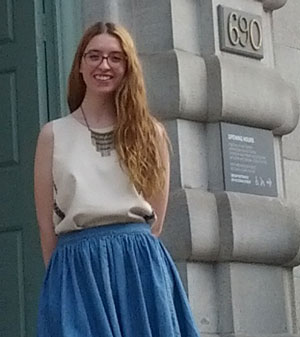 Wearing our Identity. The First Peoples Collection is more than just the new permanent exhibition at the McCord Museum in downtown Montreal. It is a source of pride for Concordia art history student Marie-Hélène Busque, who recently completed her final co-operative education work term at the museum prior to graduation.

Some 100 items dating from the end of the 19th century to today are on exhibit. A silk Haudenosaunee dress, a Dene hunter's outfit, a Kwakwaka'wakw button blanket, and a wide assortment of accessories are notably part of this fascinating presentation of artifacts.

The exhibition helps visitors learn about the importance of clothing in the development, preservation and communication of the social, cultural, political and spiritual identities of First Nations, Inuit and Métis.

While she worked on The First Peoples Collection, the McCord team allowed Busque the kind of involvement students only dream about.

"I was not only an assistant helping the team putting together the exhibition, but I was also at times a collaborator," she says. "My opinions and stylistic and technical choices were valued. I also got to work, hands-on, on an exhibition in a big museum, which is rare for someone who hasn't yet graduated with a bachelor's degree."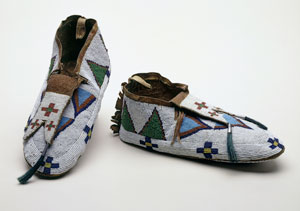 It is also the latest stage in her personal involvement with fine arts and art history, a journey that began with a homework assignment in elementary school.
"I was always interested in visuals as a young girl," she recalls. "My third grade teacher was a fan of Impressionism and she made us write a small text on a painting of our choice. That was my first encounter with art history.

"After that, I remember getting a book for Christmas, L'Art du XXème siècle (Taschen, 2005). I was absolutely fascinated by it. I remember wanting to be the person who arranged these artworks in a museum. I wanted to be a curator, even though I didn't know that such a profession existed."

The subject matter of the McCord Museum exhibition is also very significant to Busque.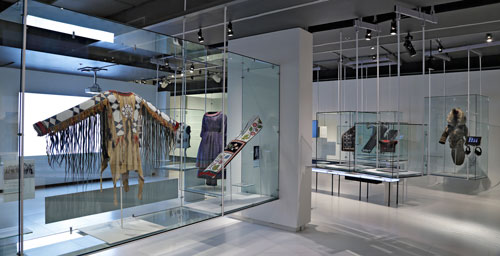 "I think more people need to know how the cultures of the First Nations are rich, complex and varied. Indeed, each Nation (whether it is Mohawk, Haida, Swampy Cree or any other Nation) has its own spirituality, language, culture and history. First Nations are often mistakenly considered as one whole, homogenized culture, but it is not," she says.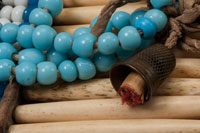 Busque's work term at the McCord Museum is an excellent example of bringing the classroom to the workplace. She was able to draw upon what she learned in her art history class on curatorial strategies and policies when working on the exhibition. Plus, the experience has helped her to shape her future.

"I now know that I would prefer working in a museum rather than a commercial gallery, and that I am interested in studying clothing exhibitions in museum spaces," she says.

When Busque was younger she experienced a special moment that guided her direction. "What really helped me embrace art history completely was a visit to the Museum of Modern Art (MoMA) in New York. I remember seeing paintings in real life that I had only seen in books or on the Internet. The experience was fantastic, motivating and a real eye-opener," she says.

Related links:
• Co-operative education in the Department of Art History
• Wearing our Identity. The First Peoples Collection - McCord Museum
• Concordia's Institute for Co-operative Education
---