Words to live by
Honorary doctorate recipients pass on inspirational messages to 2013 grads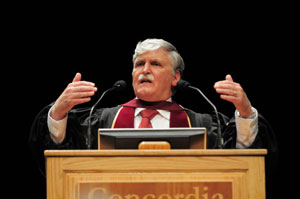 Break boundaries, become leaders, make positive change, don't be afraid of failure, don't opt out, enjoy the work, revel in the journey, eat when you're hungry, sleep when you're tired, and never stop paying attention to the world around you.
These were among the inspirational and empowering messages delivered by honorary doctorate recipients to Concordia's class of 2013 during the university's convocation ceremonies, held from June 10 to 12 at Montreal's Place des Arts. The honourees recounted their journeys from obscurity to achievement, and their remarkable individual successes lent credence to their counsel.
Noted art critic and historian Joyce Zemens encouraged graduates from the Faculty of Fine Arts to recognize their role in society as artists and art historians, to offer a vision for the future. "Artists have the ability to see the world differently, to move, enlighten and inspire us," she said. "But they also have the ability to disrupt and to force us to think about, and sometimes to rethink, the way in which we see the world."
Internet pioneer Leonard Kleinrock told Concordia's engineering and computer science grads that now is the time for them to begin thinking outside of the rules and structures that defined their education. "Disruption is desirable," he said. "It creates unexplored spaces between dimensions and disciplines, and erodes traditional boundaries that previously constrained you."
Kleinrock related how his decision to research an uncharted area of mathematics during his graduate studies at the Massachusetts Institute of Technology in Boston led to his discovery of the theory of packet networks, the technology behind the Internet.
Addressing the John Molson School of Business' graduating class, honorary doctorate recipient Christiane Germain, co-president and co-founder of Groupe Germain Hospitalité, echoed Kleinrock's sentiments. "Yes, stepping out of your comfort zone is scary," she said. "Yes, it's hard. But boy, if it works out, let me tell you, it's exciting as hell!"
Senator and Lt. Gen. Romeo Dallaire (ret.) encouraged graduates from Concordia's Faculty of Arts and Science to recognize their new, privileged position as members of the leadership strata. Referring to the graduates as members of the "Generation without Borders," Dallaire offered an optimistic view of how they will shape their world.
"You're going to maximize the revolution in technology, you're going to coalesce, you're going to become activists, you're going to feel and sense what human rights mean for the world, what the environment means, as a communion is established between humanity and the planet … You will be able to push the yardsticks like never before."
Honorary doctorate recipient Mutsumi Takahashi, co-anchor of CTV Montreal News at noon and 6 p.m., similarly encouraged graduates to recognize the responsibility that comes with a university degree or diploma. "Will you help cure diseases? Will you form governments that keep their promises? Or will you take kickbacks … and turn your back on people that might need your help?" she asked. "It's all up to you now. And at the end of the day we all have to decide what success and a good life means for us."
While assuming the burden of responsibility was a common theme among the addresses, so was the importance of following one's hopes and dreams and, above all, enjoying the ride. "Wherever you're going next, enjoy the process of doing what you're going to do," renowned Indo-Canadian filmmaker Deepa Mehta told Faculty of Arts and Science graduates.
Mehta also implored the graduates to recognize their own needs and address them, instead of just blindly chasing their goals. "Try not to keep your eyes on the prize because sometimes you might get it but sometimes you might be disappointed, and it actually takes away from the joy of performing the task at hand."
Class valedictorians also had a chance to address their peers. During his valedictory speech, Sevan Mattie, who is graduating with a BSc with Honours in Biology, implored his fellow graduates to remember to actively notice the world around them — a valuable lesson he learned from one of his Concordia professors.
"Noticing is an essential tool to understanding ourselves," he said. "The details that make life enjoyable and unique — the ever subtle rustle of the newborn leaves in a soft breeze, the sunbeams filtering through such leaves in the spring — unless we notice these, they do not exist to us, and we might risk losing a part of who we are or who we could be."
Watch a video from convocation:
Related links:
---