Ready for convocation?
Student blogger David Adelman prepares for the big day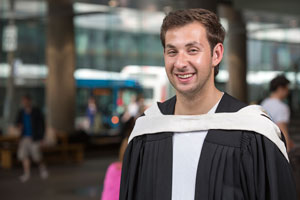 In a few days, I'll don my gown and take the stage in front of friends, family (including my 96-year-old grandmother) and hundreds of other graduates, to receive my Bachelor of Arts in Journalism.

I've attended convocation twice already as an intern video reporter for University Communications Services, so I know the drill. Nevertheless, I want to make sure I get everything right on the big day.

With this in mind, I spoke with my friend Athena Tacet, who graduated last year, and Concordia's Enrolment Services Events Coordinator Pina Greco. Together we came up with a few tips to make sure everything goes smoothly for me and the rest of the class of 2013.

Dress lightly
A student can still dress nicely in a light linen or cotton shirt or blouse, but a jacket or vest might cause overheating. "Unfortunately the gowns are a bit uncomfortable, so the lighter the material underneath the better," adds Greco.

Tacet agrees that graduates need to dress comfortably. She explains, "It's so easy for a student to want to dress up as formally as possible, since this is convocation, but students have to remember that they will be standing and sitting for a few hours indoors. Comfort is the key to enjoying this event."

Comfy shoes
"As a woman you naturally want to look good, so wearing high heels might seem like the perfect solution to add a few inches of confidence … But girls, please don't wear high heels," says Tacet, insisting that comfortable shoes are essential, as graduates will spend quite a bit of time on their feet waiting to take the stage.

Greco also suggests that if someone needs to bring a purse, to consider carrying a small one. "When the graduates pick up their marshaling cards, we always stress how important it is for students to not brings backpacks or purses, because it just looks awkward."

As a guy, I fortunately don't have to worry about purses and high heels, but I do have to remember to keep my shoes on. I used to take off my shoes when I had to sit for long hours during high school ceremonies, and old habits die hard!

Best Instagram locations
Tacet and I both agree it's important for graduates to find a good spot for photos. A good convocation picture for your favourite social media outlet is essential! Greco suggests some key locations including the entrance of the Place-Des-Arts metro station, the Montreal Museum of Contemporary Art right next door, and the fountains in front of the Place Des Arts.

"The whole area around the Place des Arts is awesome for photos. And if it rains, the interior is equally incredible," Tacet adds.

Don't stress, enjoy the moment
After covering convocation for the past two years, I wonder how it will feel this year when I finally get up on stage and feel that diploma in my hands.

Tacet recalls the moment: "Once you get your diploma, the moment it actually becomes a reality, that surge of adrenaline disappears … and then it's just like, Wow! I remember looking around at my friends after we got our diplomas, we couldn't believe that it had finally happened."

Greco wants students to remember that convocation is a moment of pride not only for students, but for family and friends, too. "Take advantage of this celebration. Enjoy this moment as something that can be shared for a long time," says Greco.

When it comes time for me to cross the bright stage at Place des Arts, I'll be reflecting on the culmination of all the incredible experiences that the Concordia community threw my way, the depth of relationships that I was able to build and nurture, and the personal growth that I've experienced since I first walked through the doors of this university. There'll be plenty of time to think about the future, but I'll take these few moments to reflect on my time at Concordia.

As Greco says: "Convocation is the frosting on the cake, that final step that caps the whole experience off. You've got your degree and now it's time to celebrate!"
Watch Tacet's convocation video — Five thousand reasons to smile at convocation:
Related links:
• "Oh Happy Day!" – Adelman's first video report, NOW, June 22, 2011
• Graduation and convocation
• "Celebrating the graduating class of 2013" — NOW, June 5, 2013
---