Romance leads to conjugal convocations
Husband and wife to graduate together from Concordia this spring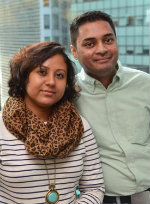 After walking down the aisle together, this spring Concordia students Habiba Zaman and Ashrafee Tanvir Hossain will graduate together.

Zaman receives her master's degree in engineering, specializing in information systems security, while Hossain will obtain his PhD in finance. A top student, he is receiving the 2013 Joe Kelly Graduate Award for the best thesis produced by a student of the John Molson School of Business.

It's a rarity that married students graduate together.

"I think it's a really special thing. It's a very memorable occasion and I'm really excited," Hossain says about sharing this milestone with his wife, Habiba.

Since convocation ceremonies for the business school and the Faculty of Engineering and Computer Science are two days apart, "I turned the registrar's office upside down for them to allow Habiba to keep her gown two extra days so we can take pictures together!" he says.

The couple were married in 2009, after the universe conspired more than once to bring them together, finally succeeding through Facebook.

"I had gone to a high school reunion," Hossain says. "One of our common friends posted a picture of me at the reunion on Facebook. I didn't know her at the time, but Habiba made a funny comment on it and I added her as a Facebook friend. That's how it started."

The couple later realized that back in 1998 in their native Bangladesh, they had attended the same tutorials in the same room together without knowing each other. And they'd unknowingly attended the same Montreal jazz festival show.

At the time they met, Hossain had begun his PhD at Concordia, after many years living in the U.S. Zaman was living in Winnipeg, where she worked as a research associate in the telecom sector.

Upon her move to Montreal to join him, she took photography classes at Concordia's School of Extended Learning. She then started her graduate studies in engineering.

"I had always wanted to pursue a master's degree," Zaman says of her opportunity. "Why not both study and get our degrees around the same time?"

The commitment required to complete graduate studies can put a strain on any relationship. That both Zaman and Hossain undertook such a journey together, they relate, was a source of support and companionship.

"Even though our disciplines are different, we understand what the other is going through," says Hossain, who worked as a lecturer during his studies.

"When I forgot my lunch, he would bring it to me," says Zaman, who also worked part-time on campus as a helpdesk operator for Academic Information Technology Services.

The couple also worked side by side at the library. They would often meet at Cultures Restaurant on campus. They attended Concordia's Graduate Students' Association parties, cultural functions and out-of-town excursions.

Hossain was involved in student government as the founding president of the John Molson Doctoral Student Society and vice-president of the Teaching and Research Assistants at Concordia (TRAC) Union.

"We complement each other well. Habiba helped me a lot with my thesis and actually cut my thesis time down by six months. She's very good at programming, which was a big help with data manipulation," says Hossain.

"I enjoyed every moment at Concordia," says Zaman.

What's next? Hossain has secured a tenure-track assistant professorship at Memorial University in St. John's, N.L. Looking forward to their move this September, they've gathered rain boots and storm gear in preparation for the Rock's legendary storms.

Meanwhile, the couple will celebrate their graduations with a trip to New York City. They plan to hit the Montreal festivals and Formula One before leaving the adoptive home they've come to love.

Related links:
• John Molson School of Business
• Faculty of Engineering and Computer Science

---