Celebrating the graduating class of 2013
Each degree tells a story of passion, motivation and achievement
Sixteen blocks east of Quartier Concordia, smack in the middle of the new Quartier des Spectacles, stands Place des Arts, a sprawling complex of theatre halls built by Montreal's ambitious mayor Jean Drapeau in the 1960s. Its most impressive venue, the Salle Wilfrid-Pelletier, is where Concordia's convocation ceremonies take place each spring and fall.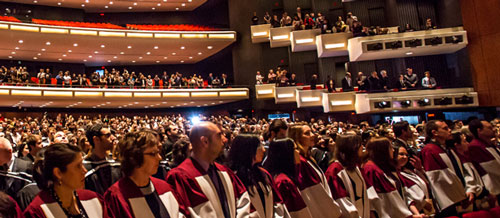 For now, except for a few security personnel, the grande salle is quiet, the 2,982 red seats that line the Parterre, Corbeille, Mezzanine and Balcon levels sit empty. But everything is ready — the faculty gowns hang pressed in the Green Room, the lights are turned low, and the stage is set to welcome the graduating class of 2013.

In a few days, excited friends and family will fill the hall, holding cameras high, smiling with pride as, one by one, Concordia's graduates cross the stage to accept diplomas and degrees they've earned thanks to sleepless nights in the library, hours in cafés bent over laptops, and afternoons on tired feet tinkering in laboratories. It's the end of one exciting, exhausting and enriching chapter and the beginning of another.

This spring, just more than 5,300 individuals will graduate from Concordia — 2,335 with degrees and diplomas from the Faculty of Arts and Science, 1,460 from the John Molson School of Business, 930 from the Faculty of Engineering and Computer Science, and 585 from the Faculty of Fine Arts.

Concordia will also bestow seven honorary doctorates, one during each ceremony.

Some 740 students with international visas will graduate, one third of them with degrees or diplomas from the Faculty of Engineering and Computer Science — the highest proportion.

Slightly more than 1,000 students will earn degrees at the graduate level, with close to half of those coming from the Faculty of Engineering and Computer Science.

This year, the number of women graduating is slightly higher than the number of men. The average age of the graduating class is 25 years old. For graduate students at the master's level, the average age is 31, and at the doctorate level it's 37.

Every graduate represents a unique story of curiosity combined with motivation; passion fuelled by drive. Starting down the path towards a post-secondary education is one thing, but finishing it is entirely another. Below are links to just a few of these stories we've written featuring some of Concordia's most outstanding students. To them, and to each and every member of the graduating class of 2013, congratulations!

Natasha Reid won the Governor General's Academic Gold Medal for having the highest marks in graduate studies. Find out how she accomplished it.

The Governor General's Academic Silver Medal, awarded to the undergraduate with the highest marks, went to Tanya Graham, who studied Environmental science.


Read about the two best dissertations produced by Marie-Eve Chagnon, who essentially rewrote the history of scientific relations in Europe soon after the First World War, and Rafik Naccache, who designs nanoparticles to fight disease.

Katrina Patterson and Mathieu Bouchard are valedictorians for the Faculty of Engineering and Computer Science. Both landed a professional job before they graduated. Find out how.

Faculty of Fine Arts valedictorian Hamish Lambert isn't interested in big studio projects, but prefers interacting with other filmmakers and would like to explore the more experimental and aesthetic side of filmmaking.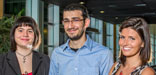 The three valedictorians in the Faculty of Arts and Science — Sofia Guerrieri, Sophie Kräuchi and Sevan Mattie — look back at their time at Concordia and offer their tips for success with future graduates.


Alison Revine and Annalisa Ceccarelli, two valedictorians in the John Molson School of Business, have a particularly bright future.
Award-winning co-operative education engineering graduate Christine Harries vows to continue the tradition of employing Concordia students.

On a lighter note, read about Habiba Zaman and Ashrafee Tanvir Hossain, a married couple who are graduating together.
---