How to craft a killer cover letter and resumé
Workshop offers guidelines on how to highlight your skills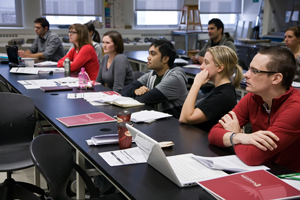 It's an essential job-search tool, a calling card to promote your best attributes, and a way to help you stand out from the throng of job applications sure to be piled high on any recruiter's desk. How you present yourself through your cover letter and resumé may well determine whether an employer says "You're hired!" or "Good luck with your job search," says Susanne Thorup, manager of Concordia's Career and Placement Services (CAPS).

In its May 2 workshop, Resumé Writing, the CAPS team will provide tips on how to customize a cover letter, and how best to organize a resumé. Thorup notes that even students who write well need assistance with the resumé and cover letter process, because the content and information is organized in a specific way, designed to best communicate skills.

First, forget about using the copy/paste function on your laptop, says Thorup.

"It's crucial that a cover letter be really targeted to each employer and job you're looking for," she says. "You need to research that employer, tell them why you want to work for them, and then customize your cover letter to meet the requirements of the job description. Think about what skills the employer is seeking and highlight those in particular. You'd be surprised how few people take the time to do that. When you're sending out mass applications without customizing them, you're not going to stand out."

In addition to making sure an applicant has the right skills and background for a job, recruiters and employers look for one thing, says Thorup.

"Did you take the time and the effort to target this company? By writing a detailed cover letter that's targeted, that's what you're demonstrating from the outset. That's going to separate you from the pack," she says.

Feel free to use the same resumé for most of the jobs you apply for in the same industry, says Thorup.

"However, if you're looking at two different industries, say one for the advertising industry and one in higher education, you might need two different resumés," she says. "Resumés are really an art, and there are lots of different ways to organize them to best highlight your skills: You can do chronological or functional. Pick and choose which experiences are going to highlight your transferable skills."

You'd be surprised what work experience is valuable to an employer, adds Thorup.

"If you worked at Tim Horton's, it shows that you know about customer service. If you work with an advisor or come to our workshops, we can help you reflect on some of those transferable skills and how best to showcase them."

Can't make it to the workshop? Consult CAPS resources online or drop by during daily walk-in appointments, from noon to 1 p.m.

Quick tips to move your cover letter and resumé to the top of the pile:
Lose the excess verbiage – keep your cover letter to one page.
Follow directions. Find out what format a company wants your resumé in, and whether they want you to attach it or paste it into the body of the email.
Do your research. "I've seen cover letters that have the wrong company name, and resumés with job titles but no details or transferable skills listed," says Thorup.
Proofread your work. "I once had a student go to a career fair and hand out a stack of resumés with the word 'liaise' spelled incorrectly. A recruiter pointed it out to her, and she probably lost out on a lot of opportunities," says Thorup.
Related links:
• CAPS Database
• Resumé and Cover Letter Tips
• List of workshops


---