Using technology to facilitate dialogue
Part-time instructor in sociology and anthropology works full-time at engaging students
This is the fifth in a series of 13 profiles of some of Concordia's leading instructors. Here, NOW profiles Alexandre Enkerli, part-time faculty member in the Department of Sociology and Anthropology, to coincide with the e.SCAPE conference from April 3 to 5.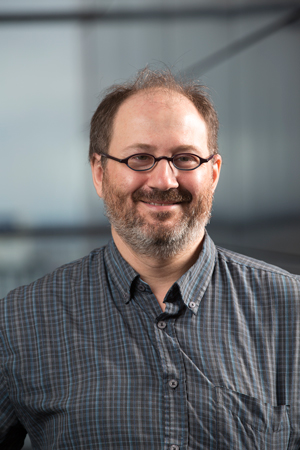 Alexandre Enkerli regards classroom time as a mere sliver of the opportunity he has to engage his students in learning.

The part-time faculty member in Concordia's Department of Sociology and Anthropology establishes online forums for his courses to encourage dialogue.

"Forums help to keep students engaged with the material so they're not just thinking about it the night before class," he says. "They're considering it in a relaxed frame of mind when real learning so often happens."

Enkerli initiates discussions with a question, but it doesn't take long for students to share information and ideas. "Even if students aren't quite sure whether a video or article that caught their interest is relevant, others quickly point out the links," he says.

Charles Gedeon, a marketing student who attended Enkerli's introductory sociology class, welcomed the online exchanges. "It's great to have a forum to really debate ideas without people cutting each other off or drowning each other out," he says.

Gedeon particularly enjoyed moderating an online discussion about gender issues. "Being of Lebanese background and having lived in the United Arab Emirates, I could appreciate the various cultural points of view," he says.

"The discussion spilled over into the next class where it resulted – after some heated debate – in a much better understanding of why people from different cultures regard rights and freedoms so differently," he says.

Enkerli monitors discussions, but takes a back seat when students are learning what they need to know from each other. "I'm prepared for every class, but showing the amount of work I've done isn't the point," he says. "It's about ensuring my students can achieve their goals."

He uses slides to call attention to key elements in upcoming readings or assignments rather than reiterating material that students can read on their own.

Class time is devoted to deepening everyone's knowledge of important concepts, as well as discussing how theory can be put into practice. "It's more important that students develop their creative and critical thinking skills than memorize a lot of stuff," Enkerli says.

Sahar Rouhani, an anthropology graduate, appreciated how Enkerli brings an introductory class to life. "He was so passionate about the subject matter, and explained how the concepts we were learning applied to the research he had done while in Mali," she says.

Enkerli is currently interested in how technology can empower people. He's gaining insights through his work with Communautique, an organization that encourages civic participation by promoting information literacy.

His research into technological appropriation examines how people use technology to become more independent. "For example, Communautique has a FabLab where people can make objects from scratch using a 3D printer," he says.

Enkerli will share his insights regarding online forums in a discussion called Teaching as Community Management during Concordia's e-SCAPE: Knowledge, Teaching, Technology conference, April 3 to 6.

The conference is being organized with the Centre for Teaching and Learning where Enkerli often attends workshops. "If you go with an open mind, you always find ideas to improve your teaching," he says.

Related links:
• e.SCAPE conference
• Department of Sociology and Anthropology
• Alexandre Enkerli's personal website
• Centre for Teaching and Learning Services
• "E-learning: New pathways in education" — NOW, February 20, 2013
Other profiles:
Jordan LeBel: "The makings of a great teacher" — NOW, February 20, 2013
Philippe Caignon: "Using blogs and wikis as teaching tools" — NOW, February 26, 2013
Lisa Lynch: "Helping journalism students get in the game" — NOW, March 5, 2013
Juan Carlos Castro: "Social networks, social pedagogy" — NOW, March 26, 2013
Arshad Ahmad: "Moderating MOOCs" — NOW, April 3, 2013
Mamoun Medraj: "Terms of engagement" — NOW, April 30, 2013
---