Concordia grad heads top sporting body
Swimming Canada's Pierre Lafontaine to lead Canadian Interuniversity Sport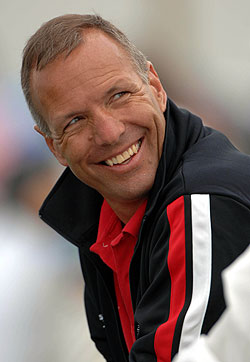 Concordia graduate Pierre Lafontaine, BSc (biology) 79, has been named chief executive officer of Canadian Interuniversity Sport (CIS), the national governing body of university sports in Canada.

The Beaconsfield native said his priorities are to build the CIS brand, national championships and "to inspire 35 million Canadians."

"Part of our role is not just to produce world athletes but to produce world leaders," Lafontaine told a news conference on January 31.

He called Canada home to "54 of the greatest universities in the world," whose $4.5 billion sporting infrastructure and programs are fertile ground for sowing athletic spirit.

Lafontaine has spent the bulk of his professional career in swimming, including in the role of chief executive and national coach of Swimming Canada since 2005.

Former head coach of the Australian Institute of Sport, Lafontaine led 10 swimmers from the team to medal results at the 2004 Olympic Games in Greece.

Lafontaine stressed the CIS should play a strong role in improving the health of Canadians by reinvigorating their passion for academic sport. "The CIS could be very much part of that culture," he said. "There is no reason why we're not the fittest country in the world."

He said the CIS will work hard to attract international attention to Canada through its ties to higher education.

"We need to bring the applied sciences of sports to the CIS and use the intellectual properties in our universities as a starting block to bring the world to Canada."

Lafontaine replaces Marg McGregor, who resigned as CEO in May after 12 years on the job.

Lafontaine will take up his new position on March 1.
Related links:
• Concordia Department of Biology
• Canadian Interuniversity Sport
• Swimming Canada


---