Preparing for winter
International students can take steps to prepare for their first Montreal winter
International students from around the world choose Concordia for their university education. Many come from warm climates and may not be prepared to deal with Montreal's four seasons: cold and snowy winters, wet springs, hot and humid summers and colourful falls.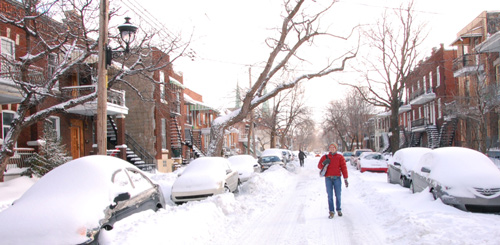 But perhaps what surprises them most, is the Canadian winter, which can be difficult for students who come from warmer climates. Kelly Collins, manager of the International Students Office, stresses the importance of preparation when dealing with cold Canadian winters. "You are going to need warm clothes, good boots with a warm lining, gloves, a hat and a warm winter coat," says Collins.

However, just owning warm clothes isn't enough. To be comfortable during the winter months, she adds, there are strategies on how to sport those garments. "Layers are important, so that when students are outside they can have three layers on," says Collins. "Then when they come inside, they can take off the layers until they are comfortable and put them back on when they go back outside."

"Judge by what you feel is cold, not by what others feel. If it is your first winter, then it is going to feel colder for you," says Farooq Shaikh, an advisor with the International Students Office. He also advises students to make a habit of checking the weather daily to prepare properly for the day.

Besides the cold and the abundance of snow, winter brings a few other surprises to unsuspecting students. "Students don't realize that winter slows everything down. The buses will be delayed and so you have to plan accordingly," says Collins.

While Montreal winters present unique challenges, the season is a favourite of many Canadians because of the activities it affords: ice skating, tobogganing, skiing, snowshoeing and even building a snowman. Concordia organizes ski trips during the winter term to permit students to take advantage of the season. "Winter, is fun, it's beautiful and honestly if you are outside with your coat and hat on and you are doing activities, you're going to get hot, you'll be taking the layers off," says Collins.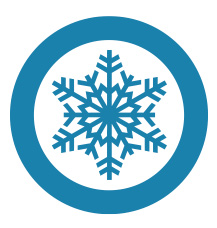 "Sometimes the students don't realize that everything is heated, because it might not be like that where they come from. Here, it may be cold outside, but it's fine inside," says Shaikh. So even if it's too cold outside to enjoy outdoor activities, you can curl up inside with a cup of hot chocolate. To enjoy winter and all it has to offer, it's also advisable to be prepared by cultivating a positive attitude. "If students already have a negative perspective on winter from the beginning, it is going to be tough for them. But if they are well prepared and are excited to see snow for the first time and experience new things, then they generally enjoy it," says Shaikh.

As the winter approaches, do outfit yourself with the right clothing that will enable you to take advantage of the special activities the season has to offer. If you have questions about what to expect throughout the course of your first winter in Montreal, visit the International Students Office in Room H-653 of the Henry F. Hall Building (1455 De Maisonneuve Blvd. W.), or visit their website.
Watch the slideshow on preparing for winter:


Related link:
• International Students Office
---