Smart as a whip
Fine Arts professor looks at the mysterious life of Lola Montez in debut novel
The life of Lola Montez reads like a story of a Hollywood starlet. Her seductive dances, royal entanglements and exploits with whips and pistols made her fodder for the gossip mongers of the 19th century. However, she was not always known as the infamous Lola Montez.

Born in Ireland in 1818 as Eliza Rosanna Gilbert, she spent her early childhood in India with her parents before they shipped her off to school in Britain. During her childhood, she was known for her miscreant and hot-tempered ways, which resulted in expulsion from boarding schools and a life in which she was shunted among relatives. At 16, Gilbert eloped with Lt. Thomas James, but they divorced five years later.

Then she disappeared for a year.
Historians and biographers do not know what happened to Gilbert between 1842 and 1843 that transformed her into Lola Montez, the Spanish dancer. What is known is that the 21-year old Gilbert travelled to Spain and returned to London in the spring of 1843 as Lola Montez.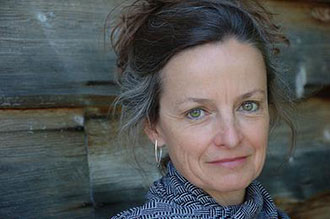 It is this gap in Montez's life that sparked the interest of Kit Brennan, an award-winning playwright and associate professor in Concordia's Department of Theatre, to pen her debut novel Whip Smart: Lola Montez Conquers the Spaniards (Astor + Blue Editions, 2013, $16.50).

"History books and biographers are silent on the hows and whys of Lola's sudden transformation," says Brennan. "This deficiency of facts, of course, gave me plenty of room to imagine something big for her to journey into and through, as fiction."

Brennan first encountered Montez while reading the novel Royal Flash by George Macdonald Fraser, in which she figures as one of the main characters. "From the first moment I read about her, Lola Montez made me laugh," says Brennan.

Montez's allure stayed with Brennan but it was not until she wrote the award-winning play Tiger's Heart that she conceived of writing about her. In Tiger's Heart, Brennan explored the life of Dr. James Barry, a 19th-century woman who spent her life disguised as a man to become a doctor.
Brennan says writing Tiger's Heart was an important step toward writing Whip Smart because she views the two characters — Barry and Montez — as "bookends to each other." Both have secret, unremarkable Irish backgrounds and each was struggling to claim her place at a time when there were few paths for women.

"I have always been fascinated by the 19th century — it was a time of unbelievable change, and of modernity," Brennan says. "This restlessness and desire also ultimately spurred women to seek new fortunes, new ways of being, so I became fascinated by stories of women from that time. Men were in charge of almost everything, and kept their power closely guarded. How did women make a difference?"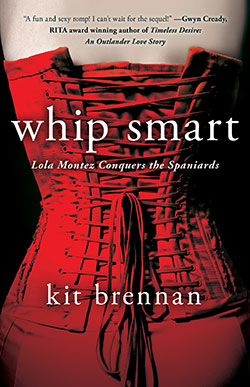 Barry made a difference by representing herself as a man so she could pursue her dream. Tiger's Heart explores the "price she might have paid for following her dream." Lola Montez used the opposite strategy. "She entered the man's world, defiantly female. She used her femininity, beauty and wits, to take power in that world," says Brennan. "She, too, paid quite a price for such boldness – but oh, the adventures along the way!"

Whip Smart began as a short one-woman play called Lola Shuffles the Cards. But the larger-than-life Montez was too big a character to be contained within a play. So Brennan wrote the novel. The story sets off at a breakneck pace as two mysterious gentlemen, holding Montez captive after her disastrous debut as a dancer in London, demand Lola "tell us in your own words."

And tell she does!

In the first 15 pages, Eliza Rosanna Gilbert chases her lover's mistress out of the house with a crack of a whip, begins a brief but torrid romance with a lord and encounters a dancing master with an alluring proposition: he wants Eliza to spy on Spanish royalty. Events become increasingly dangerous as Montez finds herself in the crosshairs of a major political upheaval and in a love affair with a Spanish general.

It's hard to dislike the witty and sexually aggressive Montez. She is funny and has an ideology about sex that is more reflective of the 21st century than the 19th.

From the first page, the reader is whisked away on an adventure fraught with danger, suspense and some sex à côté. And Brennan delivers it with impeccable wit and intelligence.

This is not your mother's bodice-ripper. Whip Smart is a sexy, adventurous and intelligent tale that is best dubbed a bodice-ripper for the literary mind.
Related links:
• Kit Brennan
• Faculty of Fine Arts
---