Big day approaches for fall grads
Two notable leaders to receive honorary doctorates during convocation
Concordia's fall 2012 convocation ceremonies will take place on Tuesday, October 30 in Salle Wilfrid Pelletier at the Place des Arts.

The first ceremony, for the fall graduates from the Faculty of Arts and Science, begins at 10 a.m. and features the official installation of Concordia's new president and vice-chancellor, Alan Shepard.

After a break for lunch, a joint ceremony for the Faculty of Fine Arts and the Faculty of Engineering and Computer Science begins at 3 p.m. Elsa Bolam, founder of the Montreal-based, non-profit professional theatre company, Geordie Productions, will receive one of two honorary doctorates to be awarded.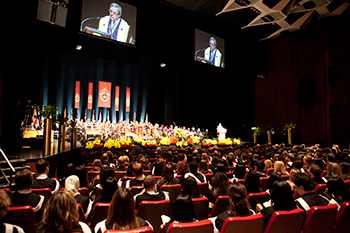 Bolam, a native of Newcastle upon Tyne, England, began her career working at the Royal Shakespeare Company in Stratford and London. She immigrated to Canada in 1968 and helped found Montreal's famed Centaur Theatre with her husband, Maurice Podbrey.

In 1980, after a stint as head of the English Technical Section at the National Theatre School, Bolam founded Geordie Productions, which was primarily devoted to taking plays to local elementary and high schools. Under Bolam's leadership, the company expanded to serve outlying English and aboriginal communities all over the province. Geordie Productions is still going strong 30 years later, delivering more than 300 performances each season.

Bolam has received numerous awards and honours for her work, including a Queen's Golden Jubilee Medal, and the Sheila and Victor Goldbloom Distinguished Community Service Award. She is a member of the Order of Canada.

The founder of Aldo shoes, Aldo Bensadoun, will also receive an honorary doctorate from Concordia during the third and final convocation ceremony, for the John Molson School of Business, taking place at 7 p.m.

A graduate in commerce, whose father was a shoe merchant, Bensadoun opened his own shoe business, a footwear concession in Le Chateau, in 1972. It eventually grew into one of the world's largest shoe retailers, and now operates more than 1,000 retail stores across Canada, the U.S., the U.K. and Ireland, and 600 franchised stores in 76 other countries.

The Aldo Group, which operates several different brands, has become an international shoe empire, largely because of its ability to bring the latest trends to market faster than its competitors. In an interview with the Globe and Mail, business expert Tim McGuire dubbed it Canada's most successful global retailer.

Bensadoun's company was one of the first to join the fight against AIDS in 1985, and since then it has generated more than $10 million in donations to various AIDS organizations and charities around the world.

The Montreal businessman was recently appointed as a Companion to the Order of the Business Hall of Fame, and in 2012, he was named as an officer of the Order of Canada.

Although not all of them will attend their convocation ceremonies, this fall 653 students will graduate from Concordia's Faculty of Arts and Science, 464 from the John Molson School of Business, 321 from the Faculty of Engineering and Computer Science, and 175 from the Faculty of Fine Arts.

Related Links:
• Graduation and Convocation
• Honorary Doctorates
• Aldo Shoes
• Geordie Productions
---