Quintessential reference librarian retires
Colleagues pay tribute to 34-year career of Lee Harris
When current and former colleagues were asked to share anecdotes about the impressive 34 years that Lee Harris has worked as a Concordia University librarian, they all emphasized the outstanding quality of service that she provided to students, faculty and peers.

Described as the quintessential reference librarian, her illustrious career at Concordia began in May of 1978 at the Science and Engineering Library (SEL) on the Sir George Williams Campus.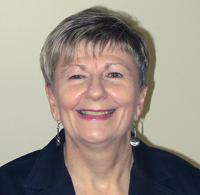 Her analytical prowess in reference was well suited to the subject areas that she was responsible for, including the departments of Building, Civil and Environmental Engineering, and Mechanical and Industrial Engineering.

"If there is such a thing as being born a reference librarian, that would be Lee," said Judy Appleby, another retired Concordia librarian when paying tribute to Harris upon her retirement. "She is interested in learning about subjects, finding that esoteric piece of information, and using creative research techniques to track down the answers to those difficult and obscure questions."

Paul Fazio, a professor in the Department of Building, Civil and Environmental Engineering, views Harris as a problem-solver. "When I sent students to see her, they never returned with their issues unresolved," he said.

"She added value to our research and educational programs by providing key sources and venues to disseminate our works," he added. "With her vast knowledge of reference and building engineering, she instilled confidence in all of us."

Carol Coughlin, a former Concordia reference librarian and current director of the Hargis Library at the Virginia Institute of Marine Science, considers Harris a key mentor. "Her practical experience, willingness to share research strategies and methodologies, and patience with many questions helped me to form a strong background and skill set to serve the academic community at Concordia and subsequently elsewhere in my career," she said. "And, yes, she infected me with the detective virus."

Always eager to embrace new technologies, Harris was instrumental in the development of CLUES, the university libraries' online catalogue. As a member of the initial Public Access Team, she helped to establish how CLUES would be accessed by users. She later became the first WikiMaster for Concordia's libraries – a role that she expertly used to communicate vital information to those directly serving the Concordia community.

Librarians are constantly searching for new ways to guide students through an increasingly complex information landscape. Harris seized the opportunity to reach out to more students by offering library workshops for the new GradPro Skills program.

As colleague Susie Breier pointed out, "At this critical moment in the redefinition of reference, Lee has been ready and willing to explore and experiment with all kinds of new approaches."

Longtime colleague Chris Bober summed up the feelings of many about Harris retiring. "Those of us who have been lucky enough to work directly with Lee know that she gave her heart and soul to Concordia Libraries, day in and day out for 34 years, and she will be sorely missed," he said.
---