Graduate earns Juno nomination
Concordia alumnus Tony Girardin nominated for Juno Award for Music DVD of the Year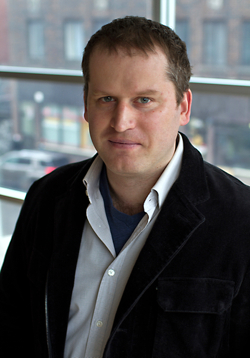 Filmmaker and alumnus Tony Girardin has been nominated for a Juno Award for his DVD David Francey: Burning Bright. The documentary tells the remarkable story of Canadian singer-songwriter David Francey's meteoric rise on the global folk music scene.

"I'm very grateful and honoured to be recognized as part of the Canadian cultural fabric. I hope the Juno nomination can help me do more of what I do," says 36-year-old Girardin. The Juno Awards will be presented April 1.

"I like underdog stories. Here's a middle-aged construction worker who loves music and decided to give it a shot — and it worked," he says of his film's humble subject. "David is an inspiration and a pure artist, in my opinion. I feel he's an historically important person, devoting much energy to chronicling his time on earth, observing traits of humanity and sharing this through his music."

Francey spent much of his life as a carpenter, in his spare time writing hundreds of songs which he kept private. When construction work began taking its toll, he took a stab at music and started playing concerts for friends and workmates. He released his first album in 1999 to great acclaim and has since taken home three Junos. This year, he was nominated for a Juno a fifth time for his album Late Edition.

Girardin has been fascinated by film since childhood, but his cinematic career began at Concordia in 1999. "A professor gave us a choice to hand in a paper or a movie, so I opted to make a film," he says.

A near-perfect grade encouraged him to pursue his passion. It's through that first film project that he was introduced to then-unknown Francey. Fast friends, they joked that if Francey ever made it big as a musician, Girardin would be the one to make a movie about him. "It's funny how things work out," says Girardin.

After graduating in 2000, he started producing corporate and wedding videos. Through another random life occurrence, Girardin made his first documentary film, Hoppy. It chronicles the surprising two-year relationship he and his girlfriend developed with an abandoned fawn they found on the doorstep of their Eastern Townships home.

"I wasn't sure there was a market for these types of films, but I made a website and some DVDs and one day, got an email from the CBC saying they wanted to buy the film," says Girardin.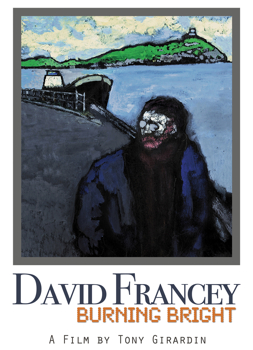 The ever-curious Girardin meets a lot of interesting people and what he loves most is to capture and tell their stories. Through a grant from the Danish Foreign Ministry, Girardin's work took him to Asia, where he extended his stay to film projects in Vietnam, China and Mongolia.

Every success opens new doors for Girardin. With bigger projects every year, his network reach is expanding. He recently concluded a deal with National Geographic.

He is beginning post-production on a film documenting the passion for hockey in Inuit communities and its impact on their culture.

Girardin graduated with a BComm in 2000. His business education comes in handy for reading and negotiating licensing contracts and he appreciates the cultural lessons he picked up in international business classes.

David Francey: Burning Bright was edited by in part by fellow alumnus Tom Peacock, Gr Dip 03, who is also a writer in University Communications Services at Concordia.

The Juno Awards are presented annually to Canadian musical artists. In addition to Girardin, the following Concordia alumni have been nominated for 2012 Junos:

• Régine Chassagne, BA (communication studies) 98, Sarah Neufeld, BFA (electroacoustic studies) 03, and Richard Reed Parry, BFA (electroacoustic studies) 03, for Juno Fan Choice Award as members of Arcade Fire
• Timothy Hecker, MA (public policy and public administration) 03, for Electronic Album of the Year for Ravedeath, 1972
• Anthony Seck, BFA (film production) 92, for Music DVD of the Year for Look At What The Light Did Now by Feist
• Elinor Svoboda, BFA (film production) 07, for Music DVD of the Year for Get Along by Tegan and Sara
• Jeffrey Wolpert, BFA 79, for Recording Engineer of the Year for You're Not Alone | Cosmic BalletSEA by Sarah Slean

Related links:
• Juno Awards
• David Francey: Burning Bright trailer
• Hoppy trailer
• David Francey
---