Creating intelligent textiles
Art commerce, research and ethics converge during a lively Beyond the Headlines exchange
Beyond the Headlines is a relatively new publication that presents conversations with six Concordians who are not only making headlines, but are influencing the way we think. We have teamed them up with a community thought-leader to discuss a common topic, creating conversations intended to generate broader discussion and reflection.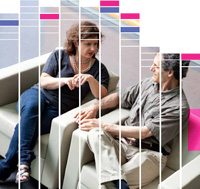 This week, we feature Concordia professor Joanna Berzowska and Hal Myers, who owns the Montreal-based company, Thought Technology.
Ever since her return to Concordia in 2002, Joanna Berzowska has been fashioning the future through a series of startling wearable creations that blur the borders of technology, art and design.
Hal Myers' company, Thought Technology, makes biofeedback and neurofeedback devices used around the globe by clinicians, psychologists and high-performance athletes (the Vancouver Canucks, AC Milan and Skate Canada are customers).
In a sense, they both make wearable soft computers — although to achieve different ends.
In this Beyond the Headlines conversation, Berzowska and Myers cover a range of topics such as the use and misuse of sensors that collect personal medical data, battlefield clothing that performs triage when a soldier has been shot, programming materiality, and manufacturing at molecular levels.
Read the conversation or Listen to the podcast.
Related link:
• Beyond the Headlines
---