Montreal-based interactive playroom goes global
Rosemary Mountain's installation to have permanent homes in Texas and Portugal
When she unveiled the Interactive Multimedia Playroom (IMP) at a 2005 conference in Montreal, Rosemary Mountain, an associate professor in music, was already planning its first trip around the world.

She toured the IMP in Europe and the United States, and now she's bringing the Playroom back to Concordia as part of the 2011-12 Department of Music's faculty research lecture series.

The Interactive Multimedia Playroom, a research project designed by Mountain in collaboration with her husband and artist Harry Mountain, explores the diverse ways in which people identify and describe sounds and sound-image combinations.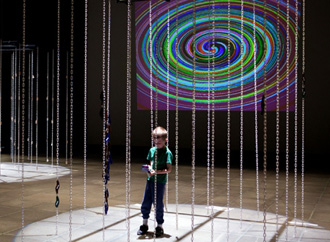 Despite the prevalence of multimedia content in today's world – from films to flashy websites – there is a lack of critical language for describing sound, says Mountain.

"The IMP teaches people about the impact of sound and images, and vice versa," she says. "I wanted to explore what people hear in a sound or see in an image, or what kind of response a sound triggered. In developing the project, I tried to get a dialogue started about things that people didn't know they could talk about."

The IMP is a three-dimensional grid created by hanging plastic chains in which users can establish sets of criteria for the categorization and evaluation of sounds and images. Short sound and images files (both still and moving) are associated with descriptors chosen by the participants themselves.

Mountain designed the project in hopes of examining the way in which people think about music, as well as exploring the commonality of responses.

"Although we developed this software, in the beginning, for artists and composers to share and fine-tune their work, we discovered very quickly that the playroom could help us to look at cultural differences. Everyone has latent associations and this project gave us a way to compare them."

New developments bring wider application
Since the Playroom's launch in 2005, Mountain and her collaborators have focused on various different aspects with the Network of Exploratory Spaces for Temporal Arts Research, a program they developed using open-source software. The network is funded by the Social Sciences and Humanities Research Council. They have also developed the IMP network for everyday use in schools, galleries and museums.

In a Dallas, Texas, private school, French teachers are using the Playroom to help students become aware of the nuances of language and translation. In a similar vein, a Montreal North school is using the project to assist children with learning disabilities communicate more easily. Researchers in Aveiro, Portugal, interested in children, gaming and technology, can participate in a cultural exchange by connecting with the Montreal and Dallas nodes by providing them with media to use in their classrooms.

"The more we grow this project, the more I can see it being used," says Mountain. "Not only is the IMP useful for people who have problems in communicating state of emotion, I can also see possible commercialization opportunities in medical research as well as in corporate team-building activities."

Mountain cites the open-ended nature of the Playroom and the fact that people can choose their own context-specific labels and content as two of the factors that make the IMP so universally successful.

"We are developing a virtual version of the IMP but it's not as easy to collaborate, " she explains. "However, the virtual version – along with various international 'nodes' such as Dallas and Aveiro – allows researchers a larger sample size than in a traditional psychology experiment, plus it opens everything up to multicultural exploration."

Rosemary Mountain give a lecture on these and other issues related to the Interactive Multimedia Playroom, along with a demonstration IMP installation.

When: Thursday, January 26, 2012 from 5:45 to 6:15 p.m.
Where: Room MB-8.255, John Molson School of Business (1450 Guy St.), Sir George Williams Campus

Related links:
• Rosemary Mountain's faculty bio page
• Department of Music Faculty Research Lecture series: Upcoming events
---