Star researcher
Krista Byers-Heinlein wins the competition, "Ça mérite d'être reconnu!"
Krista Byers-Heinlein, an assistant professor in the Concordia Department of Psychology, is one of four winners of the "Ça mérite d'être reconnu!" competition. She was named a star researcher at the Recognition Award Gala by the partners of Rendez-vous du Savoir. The ceremony took place October 5 and 6 at the Palais des congrès de Montréal.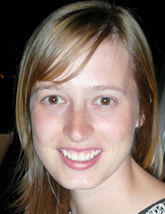 The competition "Ça mérite d'être reconnu!" was created to honour and promote the best researchers in academic institutions across Quebec. The contest features three categories: social sciences and humanities; arts and literature; and natural science, engineering and health.

Byers-Heinlein's research investigates language acquisition in infants. To do this, she uses cutting-edge experimental techniques, such as non-invasive neuroimaging technology.

Her research has revealed a form of bilingualism among children at birth who were exposed to two languages during their pre-natal development.

Byers-Heinlein's discoveries have already been recognized by her peers and bear important implications for the socialization and integration of multicultural families — a newsworthy subject in Quebec and around the world.

Byers-Heinlein is a member of the Centre for Research in Human Development and the Centre for Research on Language, Mind and Brain.

The three other contest winners are:
Caroline Boudoux, an associate professor in the Department of Engineering Physics and the Biomedical Engineering Institute at the École Polytechnique de Montréal.
Éric Deneault, a doctoral student in molecular biology at the Institute for Research in Immunology and Cancer at the Université de Montréal.
Samuelle Ducrocq-Henry, a professor in the Department of Design and New Media at the Université de Québec in Abitibi-Témiscamingue (UQAT) and new head of the Montreal UQAT Centre for undergraduate 3D design.
The Rendez-vous du Savoir, which completed its second edition, was launched by provincial business leaders to promote the importance of knowledge in Quebec's economy.

Related links:
• Rendez vous du Savoir
• Concordia Department of Psychology
• Centre for Research in Human Development
• Centre for Research on Language, Mind and Brain
---