Reaping the rewards of harvest
Concordia students invited to welcome the harvest moon.
On September 15, farmers across the country won't be the only ones welcoming the ruddy harvest moon. On the Loyola Campus, students will gather to savour fresh and healthy food prepared by students involved with Concordia's greenhouse and the Loyola City Farm School, two projects run by Sustainable Concordia.

"The harvest event is all about sharing a delicious meal cooked by fellow students from the People's Potato, Concordia's vegan soup kitchen. Through live music, a barbecue and discussions, attendees will witness how urban agriculture has grown at Concordia," explains Marcus Lobb, project coordinator for the Loyola City Farm School.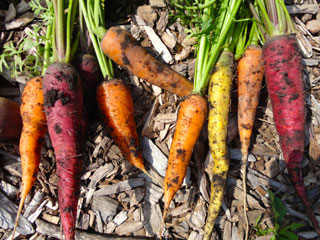 He believes the harvest party can draw students together: "In three generations, our society has broken the chain of thousands of years in human agriculture. It's important that we appreciate a more simple time and recall where we came from."

Lobb took on the role of project coordinator after becoming involved with the greenhouse on the Sir George Williams Campus. "I was amazed when I discovered the greenhouse on the 13th floor of the [Henry F.] Hall Building because it's the only place that reminds me of summer during the winter," he says.

From marinated tofu to roasted vegetables on the barbecue, the harvest event will transform peppers, eggplants, carrots, zucchinis and other kinds of vegetables into a delicious meal.

"It's a great chance to meet a lot of different people from different backgrounds, with free food and a friendly atmosphere," says Lobb, "but I am personally excited for this event because all the surplus harvest will be donated to the NDG Food Depot."

When: Thursday, September 15 from 3 to 7 p.m.
Where: Loyola Campus (7141 Sherbrooke St. W.).

Journalism student David Adelman is an intern with Concordia's University Communications Services.

Related links:
• More on the Harvest event
• Directions
• Sustainable Concordia
• Loyola City Farm School
• Sustainability blooming on Loyola Campus — NOW, June 21, 2011
• Sowing a farm in the city — NOW, May 2, 2011
• Fun at Concordia's Greenhouse — NOW, January 19, 2011

---