High marks, zero waste
Concordia graduate mapping a trail to a greener campus
June 20, 2011
|
Source: Concordia Journal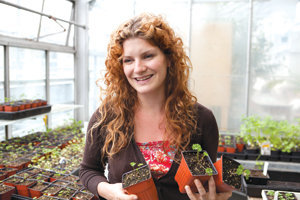 When Jessica Sypher graduates in June, she will leave Concordia with a strategy for planning zero-waste events, a stronger commitment to sustainability and the framework for a new geography course on urban agriculture.

The outgoing president of the Loyola International College Student Association, Sypher was also the college's first Vice-President of Sustainability. "I made sure that all our events were run sustainably. We were also the first student association to have a vermicompost system in our office," says Sypher. "The principal of the college was really excited about it and she would tell people, 'We've got worms!'"

Sypher decided to write her geography honours thesis on the urban agriculture movement at the university. "I was really hesitant about my thesis," says Sypher. "I was scared of jumping into something which wouldn't help the community. But after spending time in the Hall Building greenhouse and seeing the projects at Loyola, I decided I would study urban agriculture at Concordia.

"It's more about education than output, 80 pages later." Her research convinced the chair of her department to develop a course addressing some of the issues she raises.

Sypher became the sustainable event coordinator at Sustainable Concordia, where she helped create a guide to minimize the waste at events. She says the Concordia Student Union will use the guide to help plan a zero-waste orientation when school starts again in the fall.

A work-study position for the fall semester was recently created at Sustainable Concordia to certify events as bronze, silver, gold or green under the guide. Green events create no waste.

"I'm really happy because this cemented the project as something which will live on," says Sypher.

The sustainability whiz has already started packing her bags for a move to Halifax, where she will pursue a master's at Dalhousie University and will have a research position at the Bedford Institute of Oceanography.
---