Archived convocation webcasts available
Each of this year's spring convocation ceremonies were broadcast live and the archives are now available.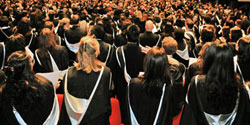 Every spring and fall, Concordia University holds Convocation ceremonies to award diplomas to its graduating students.
Family, friends, and faculty are welcome to attend these joyous events and join graduates as they celebrate and receive recognition for their academic achievements. For those unable to attend, each of the ceremonies were broadcast live.
---
Watch the archived webcasts:
---

Related links:
• Convocation
• "Cap and gown" - NOW, May 16, 2011
• "Honorary doctorate recipients announced" - NOW, May 3, 2011
---