Great grads lead the way
Top students reflect on their Concordia experience.
More than 4,500 students will be collecting their degrees at Place des Arts during Concordia's June convocation ceremonies.

Each year, Canada's Governor General grants an Academic Medal to the student graduating with the highest GPA across the university. Until now, Concordia's enrolment has meant one graduate student and one undergraduate received the medal each academic year (gold and silver respectively). This year, Concordia's increased enrolment has made it eligible for gold and silver medals at both the November and June convocations. Meet the two students who graduated at the tops of their classes.

Myriam Suchet: PhD in Humanities
By Jesse B. Staniforth
"I will try to explain," laughs Myriam Suchet, "But it's not so easy for me to do in English."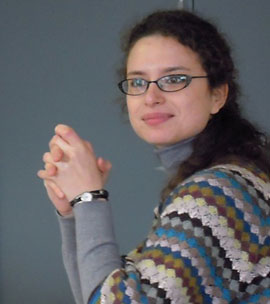 This is a fitting introduction to the work of the multilingual PhD graduate in humanities. Her program combined comparative literature, translation and communication studies.

Suchet studied the political, theoretical and philosophical implications of translation, in cotutelle between Université Charles-de-Gaulle - Lille 3 in France and Concordia's Centre for Interdisciplinary Studies in Society and Culture, which oversees the humanities doctoral program. This spring, she received word that her work had earned her the prestigious Governor General's Academic Gold Medal.

However, even before defending her 520-page PhD thesis, she had written a scholarly book, published in her native France, on the subject of translation in the realm of post-colonial literature.

"Most of the time," she explains, "the discourse that we have about translation represents it as a bridge, and makes us believe there are two existing shores: the departure shore and the target shore. But if we actually look into the practice of translation, discovering the source language and the target language — and the water in between them — is not so easy. You're always struggling, because sometimes it blurs."

Central to her research is the concept of heterolinguistic texts, literature that contains or makes reference to multiple languages.

"With texts that are written in several different languages, what do you do when you try to translate them?" she asks. Her thesis addressed this puzzle, and in undertaking it Suchet pioneered the first complete study of heterolinguism.

Suchet unanimously received the highest possible grade for the thesis's "originality, erudition and exceptional contribution to the advancement of knowledge," according to her thesis examiners.

True to form, during her time in Montreal, Suchet lived with two roommates — one from Spain and the other from Colombia — so she spoke Spanish at home, studied in English, and worked on her thesis in French. She says that her entire experience of North American education had an impressive effect on her.

Having returned to France, she now teaches at the École normale supérieure de Lyon, where she applies her Concordia experience daily.

"I teach in completely different ways now that I'm back," she says. "In France, the style of teaching is that we're meant to pretend we know everything about everything, and come at the class from a very didactic position. The first thing I do now when I enter the classroom, I turn all the tables around and start by discussing the power relationships and the reasons why we're here, long before we turn to texts. Everyone is in shock!"


David Mamane: BSc in Actuarial Mathematics
By Justin Giovannetti

David Mamane doesn't have a perfect GPA, but his 4.29 out of 4.3 earned him the Silver Academic Medal from Canada's Governor General, awarded to Concordia's highest ranking undergraduate.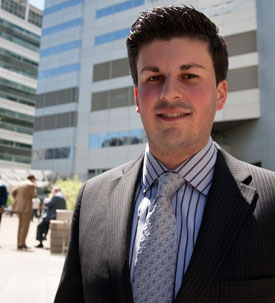 "It would have been a 4.3 if it hadn't been for a group project, but I'm not going to blame them," laughs Mamane, an actuarial mathematics student. "It's 4.299, or something like that."
Mamane has accepted a full-time position in January at Aon, a company that creates complicated models to calculate risk for corporations. He will also be presented with Concordia's Mappin and Eric O'Connor Mathematics medals at his graduation in June.

Four years ago, Mamane completed McGill's pre-med program and was about to start at their medical school toward a career in pediatrics when he decided that math was his true passion.

"Straight out of CEGEP I went into pre-med at McGill. My CEGEP grades were great due to my math and physics. I don't know why I leaned towards medicine," says Mamane. "Don't get me wrong: I volunteered in hospitals for three years during CEGEP and my first year of university. I loved doing the volunteer work and working with kids.

"I got into university and I could not stand biology and physiology at the university level. It was mind-numbingly boring in terms of memorization. It was just names and terms that went nowhere."

Mamane switched into a joint program in biology and mathematics and graduated with his first BSc from McGill. Now, two years later, he has earned his second BSc at Concordia.

While some might think that Mamane's high GPA was the product of taking an easy route, they would be wrong.

"I had four 400-level classes and an intense finance elective this last semester. I'm actually surprised I got the grades I did," says Mamane. "I was told I was crazy by many students."

David Mamane, BSc in Actuarial Mathematics, talks more about his workload, while his professor José Garrido talks about what it entails to receive the Silver Academic Medal from Canada's Governor General, awarded to Concordia's highest ranking undergraduate:



Watch for more great grads in the June 20 issue of the Journal.

Related links:
• Governor General's Awards
• Concordia Department of Mathematics and Statistics
• Centre for Interdisciplinary Studies in Society and Culture PhD in Humanities

---