Full Spectrum
The digital repository continues to incorporate improvements and upgrades to bring university research output to anyone with a search engine.
May 30, 2011
|
Source: Concordia Journal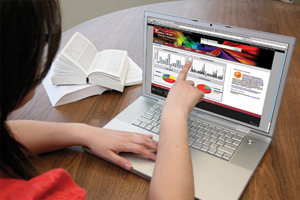 A little more than a year ago, Concordia's Senate passed a motion supporting the principle of open access to encourage researchers to make their research and creative output available on the Internet.

An advisory committee, made up of a cross-section of the university's research community, which oversees Concordia's digital repository, Spectrum, has just presented a report on the resource to Senate.

Many improvements to Spectrum's functionality have been made, according to Jocelyn Godolphin, Associate University Librarian, Collection Services. The repository manages audio and visual files and allows multiple files to be attached to a single entry. Since December, statistics on the number of downloads for each item have been available, including point of access (e.g. library interface, Google Scholar or another search tool).

Most researchers would want their work to reach beyond the direct readership of academic journals. "Some still see depositing in Spectrum as a barrier, just one more thing to do," says Godolphin. But as she points out, the benefits are broader dissemination of research. Facilitating that process has been a priority to encourage more participation.

Uploading files to the repository is easy once logged in with a Concordia NetName. Authors can now paste the DOI (Digital Object Identifier) for an article and automatically import all of that information.

Godolphin says a history professor was recently able to upload an article on a laptop in 10 minutes during a meeting.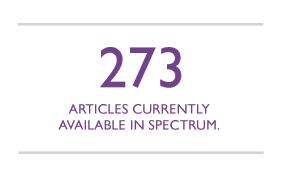 Another frequently raised hesitation for researchers is uncertainty about whether the journal or book publisher of the work will allow the piece to be made available, and under what conditions (pre- or post-print, after a certain period of time, etc.). Godolphin directs researchers to SHERPA/RoMEO, a website that aggregates information on academic publishers' copyright agreements, making verification much easier. The Spectrum page has links to step-by-step instructions for loading documents, as well as responses to frequently asked questions and an email if more support is needed. The Spectrum editors are committed to assisting faculty with depositing in Spectrum: Contact the editors via email.

Related links:
• Concordia's Libraries
• Concordia's Spectrum
• SHERPA/RoMEO
---