Recognizing outstanding Concordians
Award ceremony honours the year's finest in student life and volunteerism.
The welcoming spring sun pouring through the windows at the Loyola Chapel created the perfect atmosphere for recognizing the contributions of a few select Concordians to their university.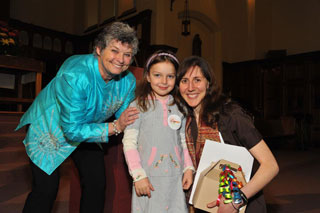 On April 7, the annual Concordia Council on Student Life (CCSL) Outstanding Contribution Awards and the Concordia University Volunteer Initiative (CUVI) Recognition Awards were given to Concordia students, staff and faculty who have made exceptional contributions to student life or services at the university.

This year, 25 awards were distributed.
CCSL Outstanding Contribution Awards

Students:
Anna Chigogidze, Linguistics master's student, Graduate Students' Association Service Manager
Roddy Doucet, Media Studies master's student, Graduate Students' Association chair of Council and CEO
Jameson Jones-Doyle, Administration master's student.
Jad Saleh, Mechanical Engineering undergraduate, president of the Concordia chapter of Engineers Without Borders
Faculty:
Ketra Schmitt, associate professor, Centre for Engineering in Society (formerly the Faculty of Engineering and Computer Science's General Studies Unit)
Hoi Dick Ng, Mechanical and Industrial Engineering professor, Aerospace program director
Monika Kin Gagnon, Communication Studies professor
Julie Norman, Political Science lecturer
Staff:
Munit Merid, Assistant to the Chair, Department of Religion
Gerald Beasley, University Librarian
CUVI Recognition Awards

Students:
Farah Gomah, Urban Planning undergraduate, Aga Khan Youth 2010 summer camp project manager
Soraya Linge, Mechanical and Industrial Engineering undergraduate, president of the Haitian Students Association
Nancy Salama, Sociology undergraduate, president of Volunteers in Action
Emily Paige, Fine Arts master's student, Director of Fine Arts for the Graduate Students' Association
Rochelle Lazarus, Sociology undergraduate, founding member of the YMCA Kanawana Sam Lazarus Fund
Kevin McLeod, Political Science undergraduate, 2009-10 VP Social for the Political Science Student Association
The Alternative Spring Break (ASB) program Team Leaders
Staff:
Mireille Landry, Interim Director/Programs Coordinator of the Institute for Community Development, Member of the Board of Directors of Canadian social justice organization Inter Pares, member of Centraide's allocation committee
Susan Hawke, Librarian of the Concordia Career Resource Centre, coordinator of Concordia's Used Book Fair
Nancy Curran, Event Coordinator for Conference Services, fundraiser for the Canadian Cancer Society and Centraide

In addition to the CCSL and CUVI awards, five special awards were presented.

Roberto Chen-Rangel, Faculty of Arts and Science Academic Counsellor, was the first recipient of the Louyse Lussier Student Life Award.

New this year, the award is in honour of Louyse Lussier, who has worked in the Dean of Students Office for more than 30 years. In July 2010, Lussier was unfortunately diagnosed with brain cancer. Chen-Rangel and Lussier have worked closely together for more than a decade. He is known for his sage advice and guidance to the many students who consult him.

Gerry Barrette, Property/Operations Manager at Loyola Campus, received the Lina Lipscombe CCSL staff Award. Barrette has taken a leadership role in facilitating sustainability and agriculture projects at Loyola, as well as helping to renew the Loyola Chapel.

The Spirit of Giving Award was given to a group of students who raised nearly $5,000 for disaster relief in Japan following the March earthquake and tsunami. The students were Catherine Farmer, Eri Kuramasu, Hana Mae Nassar, Kaori Wada, Ken Haraguchi, Mariella Valdivia Castillo, Megumi Konishi, Hitomi Sato, Tomoe Otsuki, Jessie Thavonekham, and Ayman Bouhssini.

Mahesh C. Sharma, professor in the Department of Decision Sciences and Management Information Systems, accepted the Lifetime of Giving Award. The generous contributions of the 74-year-old professor, who has spent 37 years at Concordia, include never having missed a Shuffle (raising no less than $400 in any year) and spending nights outdoors with the 5 Days for the Homeless initiative.

Dean of Students Beth Morey was presented with a special gift to celebrate her upcoming retirement this May. Assistant to the Dean Jasmine Stuart presented Morey with a one-person pew from the Loyola Chapel in celebration of the more than 30 years she has served Concordia.


Related links:
• Watch the 2011 CCSL/CUVI Awards ceremony on CUTV
• CCSL Outstanding Contribution Awards
• CUVI Recognition Awards
• "2010 CCSL and CUVI Awards Gala" - Journal, April 15, 2010
• "CCSL Awards Honour Excellence" - Journal, April 23, 2009
• Concordia Alternative Spring Break
---