Two wheels good
Inexpensive, secure bike parking is available on Concordia's Sir George Williams Campus.
They didn't throw in the kitchen sink, but there are showers.
For many, the possibility of cycling to work becomes more concrete with the pavement clearing, and the weather warming up. For others, the prospect of a two-wheel commute seems sweaty and unpleasant.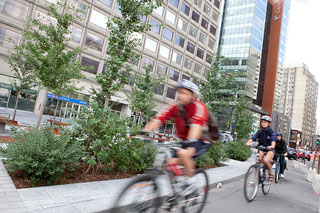 However, relief is available courtesy of the team at Le Gym, downstairs in the Engineering, Computer Science and Visual Arts Integrated Complex. They have offered access to their showers for everyone who rents bicycle parking across the street in the underground lot of the J.W. McConnell Library Building.

Since May 2010, for $30 per term (and a $15 refundable deposit), cyclists receive an access card for the parking facility where they can lock their bikes in a designated area.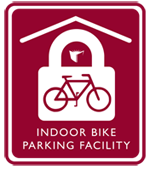 The project was developed by Concordia alumnus Matthew Arnold, while he was taking the GEOG 398 - Sustainable Campus class. The course encouraged students to research and develop sustainable projects for across the university.

Now the program, available to students, faculty and staff, is run by Allégo Concordia, a working group of Sustainable Concordia.

To find out more, or register, contact Allégo Concordia at allego@alcor.concordia.ca or drop by the offices Room Z-305, Annex Z (2090 Mackay St.).

Related link:
• Allégo Concordia
---