Louder than a bomb
The power of hip hop in today's world
March 21, 2011
|
Source: Concordia Journal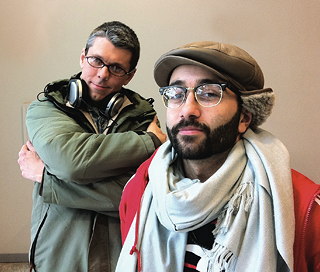 According to Yassin Alsalman and Marc Peters, hip hop's true significance lives beyond the words, beyond the hype, and deep in its culture.

As co-instructors of FFAR 398B - Hip Hop: Past/ Present/Future, they feel the medium of hip hop is a way of gaining profound understanding of the world and society we live in.

"Hip hop bleeds into so many different areas of life," says the Dubai-born Alsalman, a.k.a. Montreal-based MC The Narcicyst. "It's an amalgam culture spoken the world over that's created by a vast, diverse group of people from different backgrounds."

This, he says, creates the perfect condition to generate discussion about how hip hop's culture relates to pertinent issues: post-colonialism, Islam, the history of art, the ghetto, race, philosophy and religion, to name a few.

There are no tests, quizzes or exams. Instead, students "have to think and have to write … a lot," says Peters, a Concordia MFA graduate who started the course in fall 2009.

Along with a series of reading and informal writing exercises, students must write a 10-page paper about a subject of their choosing.

"It's an open-ended topic, but we want to stray away from the dichotomy of real and unreal hip hop. We don't want to have these regular rhetorical papers. We want people to relate the issues we speak about culturally within hip hop to anything in the world," says Alsalman.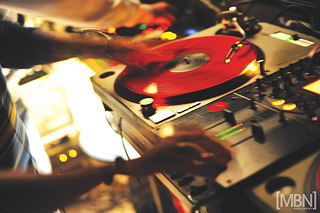 This is the third semester that the overwhelmingly popular class, offered through the Faculty of Fine Arts for students in other Faculties, has been taught. This winter, the class's capacity of 90 students filled up within 10 days of being listed.

It's also the first time Alsalman has taught alongside Peters for the full term. Peters, a non-musician who has listened to hip hop for most of his life, recruited Alsalman, a passionate politically motivated hip hop artist, to speak to the class in fall 2009 after having been a long-time fan. "In fact, our friendship is predicated on this course," says Peters. "Hip hop has affected us both in similar ways."
When approached about the possibility, Alsalman was keen on the idea, having considered proposing a similar class as he was completing his master's in media studies at Concordia in 2006. Alsalman's thesis about how hip hop has helped young Arabs express themselves in the last decade of political turmoil will soon be released as a book, The Diatribes of a Dying Tribe.

The pair agrees that a class with "hip hop" in its title will inevitably be popular, and they've seen many students think it'll be a bird course. Wrong, they say.

"The assumption is that it is just a surface thing. It's not," says Alsalman. "It's about critical thinking and being aware of the layers of everything in society, to become analytical about everything. Instead of accepting social norms, we want the students to find out why they've become social norms."

Related links:
• Yassin Alsalman's website
• The Narcicyst - P.H.A.T.W.A. (Official Music Video)
---