Can money buy happiness?
Concordia psychology professor suggests that retirement security rests on more than a bank account.
There's a proverb that says, "If you want to feel rich, just count the things you have that money can't buy." Dolores Pushkar's latest research findings suggest that this idea may, in fact, be a wise addition to a retirement plan. New data from Pushkar, a professor in Concordia's Department of Psychology, suggests the measure of a comfortable retirement should go beyond dollars and cents.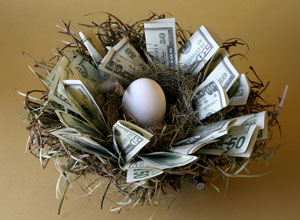 Discussing the literature and her own research findings, Pushkar concludes that the old question, "Does money make you happy?" is more complicated than it seems. Greater prosperity does not necessarily translate into greater happiness.
Pushkar suggests governments and individuals should focus on improving social conditions that have a direct impact on people's well-being, such as health, safety, environmental conditions, and opportunities to ease into retirement.

Pushkar will be discussing her findings during a morning-long symposium on money (and retirement) organized by the Centre for Research in Human Development (CRDH).
The symposium will be moderated by the CRDH's Patrik Marier, Canada Research Chair in Comparative Public Policy and professor in the Department of Political Science. Other participants are John Reynolds, author of The Naked Investor and The Skeptical Investor; Robert Baldwin, formerly with the Canadian Federation of Labour and now a consultant on retirement, and Sébastien Larochelle-Côté, Chief Advisor, Labour Statistics Division, Statistics Canada.

Money (and Retirement)

When: Friday, March 25, 2011, 9 a.m. to noon
Where: Room H-767, Henry F. Hall Building (1455 de Maisonneuve Blvd. W.)

Related links:
• Symposium series
• Centre for Research in Human Development
---