The ultimate Bon Jovi experience
Concordia music students get an education with backstage access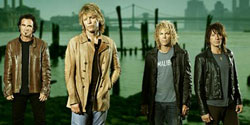 When Bon Jovi toured through town in February, students from Concordia's Music Department got the chance to work in a different kind of classroom, with new professors but a familiar work experience. Fourteen students were chosen to take a behind-the-scenes look at the set-up of the Bon Jovi concert at Montreal's Bell Centre.
Bon Jovi works with colleges and universities, offering on-site access in order to give back to local communities. The tour management coordinator, Mike Savas, says their mission is to provide students with a hands-on experience related to their majors so they get a sneak peek at what the actual work entails.
The Concordia students spent the day watching as the stage was assembled. From the light and video screen installations to the sound and instrument set-up, everything was completed in under six hours. The students received insight on the techniques involved in the sound and lighting departments, and shadowed various crew members. Participating students were required to complete an academic assignment based on their observations.
Many students were taken aback by the mounting of equipment on such a large scale. Electroacoustics major Emily Laliberté says the live environment on stage is unlike anything they've seen in the small in-studio set-ups they work with at school. Another student, Jack Kelly, enjoyed watching the professionals use the audio-visual technology with a non-theoretical approach, something they don't get to see in the classroom.
Best of all, the students were given tickets to the sold-out Bon Jovi concert.
Related links:
• Music Department
---