Will TD buy the farm?
Students seek votes for the Loyola Farm Project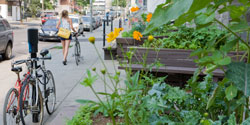 Three students need support to create an agricultural oasis on Concordia's west-end campus through the Loyola Farm Project. Their food sustainability proposal builds on existing projects and aims high (including rooftop gardens).
The project was developed by the Food Systems Project, established last summer to identify methods for more autonomous, sustainable food sourcing at Concordia – either through local farmers or campus gardens. When the TD Bank Friends of the Environment Foundation (TD FEF) announced their Go Green Challenge, students who had been working on the project saw a way to finance their dream and submitted a video describing their vision.
Go to the Loyola Farm Project's video submission (link below) to learn more about the proposal. Among other ideas, the proposal includes planting fruit trees to give students healthy snacks, rooftop gardens to grow produce for student cafés and campus food co-ops and community gardens.
On March 16, TD FEF will announce the winners from amongst the 132 submissions they received. The winning project will be supported with cash and internships for students to realize their plan and additional financial support for the students' institution.
While TD FEF selects the overall winners, all entries are eligible for a $2,500 people's choice prize. Log on to the Loyola Farm Project video to vote for Concordia's project before March 11.
Related links:
• The Loyola Farm Project video submission
• "Concordia Students Challenged to Go Green" – NOW, January 18, 2011
• The Food Systems Project
• More about the Go Green challenge

---