Grammy + BRIT Award = Arcade Fire: Three of seven band members are Concordia grads
Three of seven band members are Concordia grads
Despite being up against music-industry heavyweights Eminem, Lady Gaga and Katy Perry, the Montreal-based indie group Arcade Fire captured Album of the Year on February 13 at the Grammy Awards ceremony in Los Angeles.
Two days later, they sailed past Vampire Weekend and Kings of Leon to win best International Album at the BRIT Awards. In both cases, the group won for its third album, The Suburbs. They also won the BRIT Award for best International Group.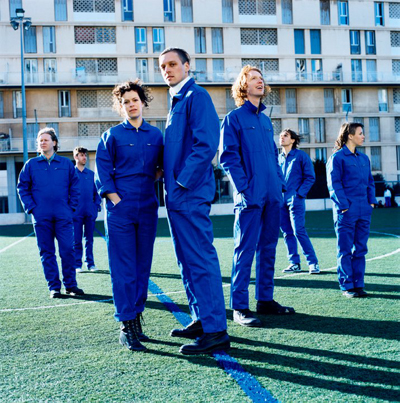 The seven-member Arcade Fire, fronted by lead vocalist and songwriter Win Butler, features three Concordia alumni: Régine Chassagne (BA Communication Studies '98), a multi-instrumentalist and singer; Richard Reed Parry (BFA Electroacoustic Studies '03), also a multi-instrumentalist and singer; and violinist Sarah Neufeld (BFA Electroacoustic Studies '03).
At the Grammys, band members gave a shout-out to their home base. "Merci to Montreal, Quebec, for taking us in, giving us a home and a place to be in a band," Butler said after accepting the award. Chassagne, who is married to Butler, also acknowledged her roots. "Merci Montréal! Merci tout le monde au Québec," she said.
In 2006, Chassagne was interviewed for a Concordia University Magazine article called "Gang of Rockers" that highlighted Concordia grads in the burgeoning Montreal indie-rock scene. She praised her former Concordia professor and music instructor Iain Cook (BA Communication Studies '93, MA Media Studies '97). "There's nothing better for a student than to have an inspired teacher," Chassagne said.
Arcade Fire accepting the Grammy for Album of the Year at the 53rd Grammy Awards:
The following video, directed by Charlie Lightning, was recorded live at Hackney Empire in London on July 7, 2010:
Related Links:
• "Gang of Rockers"– Concordia University Magazine, fall 2006
• Arcade Fire stops by the CBS Backstage Thank You Cam after winning (YouTube)
• Arcade Fire
• Grammy Awards
---