Sowing academic/community collaboration
The upcoming City Farm School will teach the basics of agriculture in small urban spaces
February 14, 2011
|
Source: Concordia Journal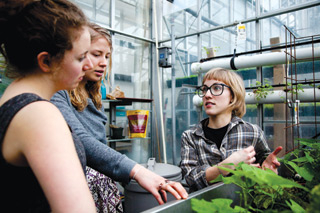 Concordia's recently adopted problem-based service learning (PBSL) model bringing academics into reciprocal dialogue with community-based projects is already yielding concrete, and unexpected, results.

In 2009, Ruby Jean Van Vliet returned from a term in the Netherlands as an exchange student to finish up her degree in Communication Studies. "I was looking for courses that were engaging," Van Vliet recalls. "And I was wondering about what I could really do after graduation." That combination of the engaging and the concrete led her to PBSL courses, newly introduced by the School of Extended Learning (SEL). In these courses, students spend one semester developing a toolkit of skills and methods for community problem-solving, teambuilding, and program evaluation and delivery. The second term requires students to pair up with an organization and fill a need or address a situation.

Van Vliet loved the challenge and the opportunity her PSBL course offered to move beyond a more traditional professor/student relationship. "We were able to be really independent and really self-reflexive." She fulfilled the class's required 90-hour practicum at Concordia's greenhouse, atop the Henry F. Hall Building. As their communications officer, she helped promote and develop the activities and workshops organized in the space.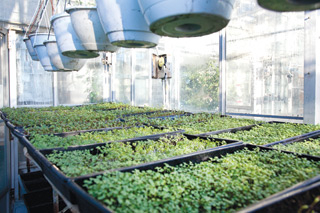 She's continued in that role at the greenhouse, and is now helping to coordinate Moving Forward, a project that applies the principles of teaming up academics and community organizers in an inter-community dialogue on the sustainable food movement in Montreal. The two-day event will feature a series of panel discussions bringing participants together from across the city to exchange on existing and potential collaborations.

The Moving Forward conference is the first of three future events to bring together academics and community organizers around current issues. The idea was developed through a series of discussions on sustainability and academia initiated by Sustainable Concordia in 2008 and 2009.

"The key here is the university listening to what is actually going on," says Noel Burke, Dean of SEL. He acknowledges the role of chair and political science professor Peter Stoett and members of SEL's Institute for Community Development (including now-retired Lance Evoy) in developing the project, funded through the President's Strategic Fund, supporting Concordia's Strategic Framework.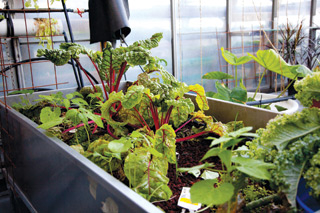 Moving Forward is the precursor to the City Farm School (CFS), a week-long practical project that will teach community members, educators, volunteers and facilitators the basics of agriculture in small, urban spaces. "CFS was inspired by the desire to respond to the demands of the garden-crazed community at Concordia," according to greenhouse coordinator Arlene Throness, citing the 600 potential volunteers who have contacted her to learn about urban farming. The CFS takes the PBSL model seriously. "Community members will benefit from the skills of the student and, in return, the student will have the opportunity to use both theoretical and practical knowledge to assist community partners," according to the project proposal. After CFS, students will apply their new knowledge in internships at a variety of local colleges and high schools. "CFS is practising experiencebased models of education and exercising principles of social responsibility and community engagement," says Throness.

Related links:
• "Class Action: Social Change and Personal Growth" – Journal, Oct. 29, 2009
• Concordia School of Extended Learning
• President's Strategic Fund
• Sustainable Concordia
---