4 Seasons Growing
Volunteer project turns Hall Building into an urban farm
February 14, 2011
|
Source: Concordia Journal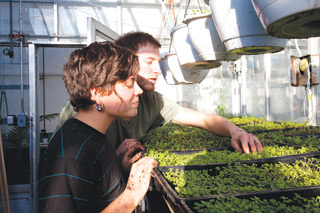 In 2003, Sustainable Concordia was invited to rejuvenate the Hall Building's '60s-era greenhouse. The 4 Seasons Growing Project, started just last year, is one recent result of the renewal.

In the city, cheap food is plentiful, but that very accessibility leads some to feel detached and disempowered. 4 Seasons reintegrates people and process. The project's mission is food security and education. "Access to healthy, nutritious food, regardless of economic circumstances, is a human right," greenhouse coordinator Arlene Throness explains. "The 4 Seasons Growing Project functions as a demonstration lab and cheerleader for innovative, community-involved and sustainable urban agriculture."

A variety of lettuces are produced, from those found in standard supermarket mixes to more exotic varieties: Black Seeded Simpson, Kyona Mizuna, Tatsoi, arugula, mustard, and a radish green called Hong Vit. Mushrooms are another crop in development – the technique has been mastered, but the group is still experimenting with larger-scale growing. Mushrooms and lettuce are winter crops. During other seasons, Throness and her group have experimented with heirloom tomatoes, heirloom peppers, and pumpkins and other squash, grown on trellises.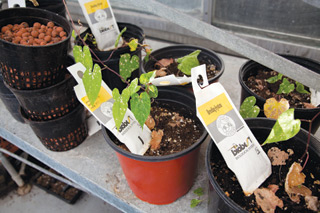 Selling produce to Concordia's food co-operative, Le Frigo Vert, and student-run CaféX makes the project partially self-sustaining. The $80 to $100 generated weekly covers seeds, soil and the beneficial insects – ladybugs and a form of parasitic wasp – that make the organic operation possible.

The harvest is also shared by the approximately 50 volunteers who show up each week. Mostly students, they hail from an array of disciplines, including anthropology, biology, communication studies, engineering, geography and studio art. This diversity probably reflects the fact that food – and agriculture – touches many sectors: political, biological, horticultural and economic, Throness says.

Megan Hyslop, a Special Individualized MA student, is one of Throness's cadre of loyal volunteers. Previous farm work in British Columbia left her "really passionate" about organic agriculture. "When I came to Montreal, my studies confined me to books and computers. I was missing that 'hands in the dirt' contact with plants, and with food." Now the greenhouse is her on-campus home; Hyslop volunteers on Thursdays pulling out old sprouts, composting them, and then planting new seeds. She also transplants herbs, ultimately dried and donated to the university's vegan soup kitchen, the People's Potato.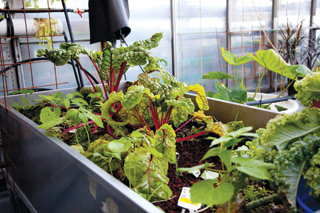 Community outreach and involvement are essential to the 4 Seasons mandate. 'Grow your own oyster mushroom' workshops have proven popular, according to Throness. Mushrooms are cultivated in the dark from hanging bags of straw. Some 100 people have been taught the technique at the four workshops held to date. "Oyster mushrooms are the most delectable, delightful experience," Throness says, who recommends sautéing them in butter or oil.

Throness has also been happy to field requests from organizations like Éco-quartier, Vanier College, the YWCA, and St. James the Apostle Church to share and develop green expertise. "We can't accommodate all the requests but we're going to compile a list of needs and get experts from local collective gardens – such as those run by Action Communiterre, Éco-quartier, and Les Jardins collectifs de Bouffe-Action – and train them."

The ever-lengthening to-do list includes recruiting speakers to address theoretical and political aspects of urban agriculture and development, poverty, and food security.

Related link:
• Concordia Greenhouse
---