Fun at Concordia's Greenhouse
Tired of snow, miss the colour green, and need some warmth? Concordia's greenhouse is the answer
The Concordia Greenhouse Project, located on the rooftop of the Henry F. Hall Building (1455 De Maisonneuve Blvd. W.), is an initiative geared towards education and research, sustainable organic horticulture, and community-building.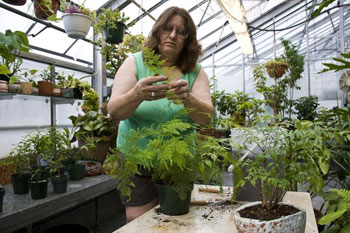 While this term's workshops have already begun, there are plenty of opportunites to participate.

Workshops
Integrated Pest Control workshop – Thursday, January 25, 5 p.m. to 6 p.m. Learn how to identify and treat greenhouse pests without using pesticides.

Volunteering
The 4 Seasons Growing – Organic local lettuce mixes grown at the greenhouse are now on sale at the Frigo Vert (2130 Mackay) and Cafe X (Visual Arts Building 2nd floor and the Engineering, Computer Science and Visual Arts Integrated Complex 7th floor).
Volunteers are welcome and encouraged to join greenhouse organizers for harvesting of various veggies Sundays from 2 p.m. to 6 p.m., and for planting Thursdays 2 p.m. to 6 p.m.
For information, contact Arlene Throness at concordiagreenhouse@gmail.com.

The Atrium Tea Project – Volunteers are welcome to help harvest, dry, and of course, drink many different types of herbal teas grown at the greenhouse, Fridays from 11 a.m. to 3 p.m. For information, contact Kate Husted at katehusted@hotmail.com.

Vermicompost Project – Wednesdays 1 p.m. to 4 p.m. For more information, contact Noemie Messier-Guimont at r4wormcompost@gmail.com.

The greenhouse will be open 10 a.m. to 6 p.m. Monday thru Thursday and 10 a.m. 5 p.m. on Friday.
Did you know that the greenhouse is wheelchair accessible? Please contact Marcus Lobb at concordiagreenhouse.ed@gmail.com with 24 hours notice.

Related Link:
• Concordia Greenhouse Project
---