Tribute to a music legend
Concert to honour father of free jazz Ornette Coleman
January 17, 2011
|
Source: Concordia Journal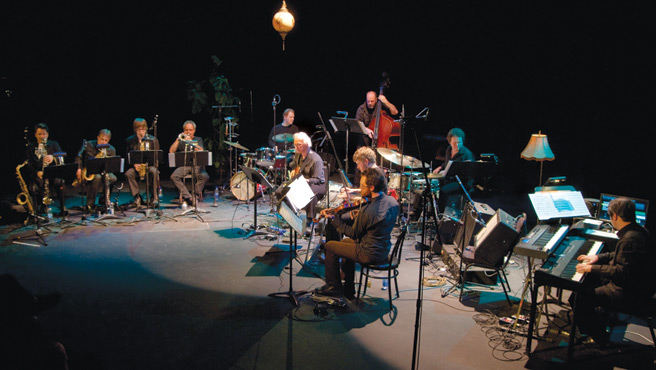 Its weighty reputation across the music world notwithstanding, Ornette Coleman's music isn't known for being the easiest to listen to. Concordia part-time music professor Gary Schwartz would like to change that.

This month, the guitarist will bring together 11 musicians from the Montreal jazz community for two evenings of music inspired by Coleman, who is known as the father of free jazz. Lettingo: The Music and Influence of Ornette Coleman will interpret the often-complicated musical style of the legendary musician, and produce a performance accessible to any music lover.

"These are arranged pieces of Coleman's tunes performed by incredible musicians. It's not a whole night of playing freely," says Schwartz, who is producing the show for the second time in a year.

A long-time fan, Schwartz's connection to Coleman stems from playing in a number of multi-stylistic, improvisational bands years ago that were influenced by Coleman's aesthetic.

"Ornette, for me, is not only about signifying very open thinking or being the daddy of free jazz, it's a spiritual thing that says, 'you can do anything,'" Schwartz says.

A saxophonist, trumpeter and composer, Coleman was a major musical innovator in the 1950s and '60s. In 2006, his musical composition won the first Pulitzer Prize given to a jazz work for his album Sound Grammar.

At the 2009 Festival International de Jazz de Montréal, Coleman received the prestigious Miles Davis Award to honour his work and his influence in regenerating the jazz idiom.

Joining Schwartz will be his former students Josh Zubot (violin) and Claude Lavergne (drums/percussion), along with Ron Di Lauro (trumpet/flugelhorn), Alexandre Côté (tenor/soprano saxophones), Eric Hove (alto saxophone), Frank Lozano (tenor saxophone/ bass clarinet), David Ryshpan (keyboard), Jonathan Cayer (keyboard), Nicolas Caloia (bass), and Isaiah Ceccarelli (drums/percussion).

Schwartz also enthusiastically acknowledges the Concordia University Part-time Faculty Association (CUPFA), which has been "completely supportive of my work."

Lettingo will be held January 17 and 18, 2011 at La Sala Rossa (4848 St. Laurent Blvd). Tickets are $20, or $15 for artists, students and seniors. For more info, call 514-284-0122.
Related links:
• Listen to Ornette Coleman Tribute, Lettingo, Montreal's Théatre Lachapelle, January 15, 2010
• Gary Schwartz on MySpace

---