Montreal: On the Stream of Languages
Fourth President's Conference series begins on October 27 with a lecture from Professor Sherry Simon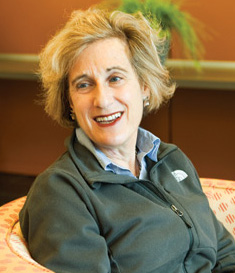 Concordians will want to mark October 27 in their agendas.
The fourth edition of the President's Conference Series is presented in association with the Bibliothèque et Archives nationales du Québec (BanQ).
This year marks the start of a five-year collaboration and partnership with the Bibliothèque, titled The City is the World: Montreal Through the Eyes of Concordia.

The partnership is aimed at showcasing how Montreal is the sole North American city to connect Francophones and Anglophones while integrating thousands of cultures from all over the world.

The City is the World: Montreal through the eyes of Concordia will include several, free events lectures, performances and discussions—by university researchers on some of this unique city's more surprising facets.
All events will be presented at the BAnQ (475 De Maisonneuve Blvd. E.).
The first event, entitled Montreal: On the Stream of Languages, will take place from October 27 to December 5, 2010, at 7:30 p.m., and include the following:

The Flow of Languages, the Grace of Cultures
October 27
Professor Sherry Simon, of Concordia's Département d'études françaises and an expert on Montreal's cultural and linguistic diversity, will present the first BAnQ talk. She will discuss Montreal's fertile linguistic character, its polyglot and hybrid culture, language and learning tensions and richness that come together in our city. Staging and direction will be handled by Michael Montanaro, Concordia's Associate Professor and Chair of Contemporary Dance and choreographer of the Cirque de Soleil's show, Vareka.
---
Listen to Simon read of her memories of cross-Montreal travel from her book Translating
Montreal: Episodes in the Life of a Divided City:
---

Interactive Multimedia Exhibitions
October 27 to December 5
Ollivier Dyens, artist, writer and essayist; Jason Lewis, researcher and artist; David Jhave Johnston, poet and Web creator; brothers Max and Julian Stein, Concordia undergraduates; and Alison Loader, filmmaker and digital artist, will be the focus of interactive media exhibits that will explore how technology transforms our perception of Montreal.

Other events are part of Concordia's "University of the Streets Café," which creates gathering places for citizens to pursue lifelong learning and engagement through public conversations. These collective discussions are an opportunity for people of diverse backgrounds to meet in a respectful environment in which all perspectives are welcome.

The French Language in Quebec: A Common Good for All?
November 3
With Professor Paula Bouffard of Concordia's Département d'études françaises

The Role of Socially Engaged Theatre in Healthy Neighbourhoods: How Can Theatre Artists Engaged In Community Development Avoid Acting like Missionaries?
November 25
With Professor Ted Little of Concordia's Department of Theatre

An Evening of Poetry
December 1
With Marc André Brouillette and André Roy of Concordia's Département d'études françaises, as well as Jason Camlot, Mary di Michele, David McGimpsey, Stephanie Bolster and Sina Queyras, professors in Concordia's Department of English.
Related links:
• BAnQ
• The University of the Streets Cafe on Facebook
• President's Conference Series
• Concordia Journal article: A story thrice told
---