No more roads less travelled?
Lateral active suspension research from HYbrid CONtrol Systems lab is poetry in motion
September 27, 2010
|
Source: Concordia Journal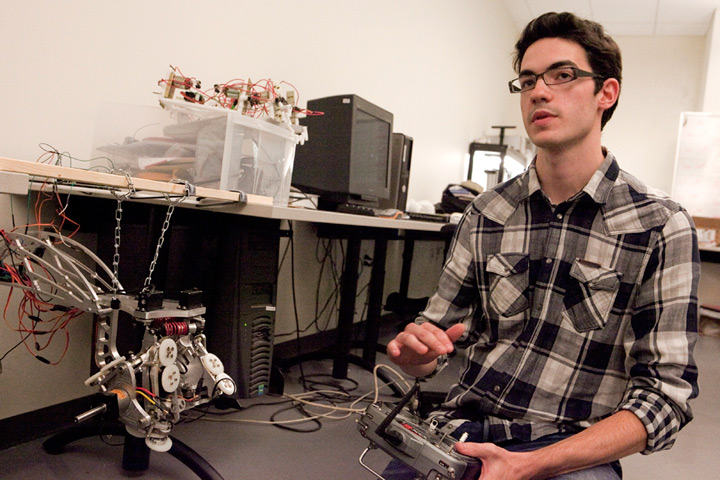 Gavin Kenneally, 21, has a concept for a vehicle suspension system that may well change how we travel over wildly varied and unpredictable terrain.
A bit of background first. Most vehicles on the road have passive suspension; a system of springs and fluid-filled pistons that absorb bumps so as not to pass on the shock to passengers. Active suspension systems, common in F1 racers and many luxury vehicles, have computers that sense the road beneath and actively counterbalance bumps to ensure a smoother ride.
Kenneally has developed a new active suspension concept that senses changes in the road not vertically, but horizontally. His "Biologically Inspired Telescoping Active Suspension Arm Vehicle" automatically adjusts the track width – the lateral distance between two tires on the same axle – to improve mobility and stability at any speed.
He envisions the potential for this technology in developing nations, where a vehicle may travel a wide-lane city highway in the morning and a narrow path to a village in the evening. Kenneally also sees benefits in disaster relief efforts where vehicles confront varying physical obstacles.
He's not even limiting his thinking to our planet. "At its most ambitious, it may even be useful in an extraterrestrial rover," he says.
It's a stellar idea he brought to Concordia's Electrical and Computer Engineering Professor and HYbrid CONtrol Systems (HYCONS) founder Luis Rodrigues last year. Expanding the idea from a previous active suspension vehicle he'd built, Kenneally found the lab's online description engaging and decided to approach Rodrigues. The two agreed the project was worth investigation, as did the Natural Sciences and Engineering Research Council (NSERC).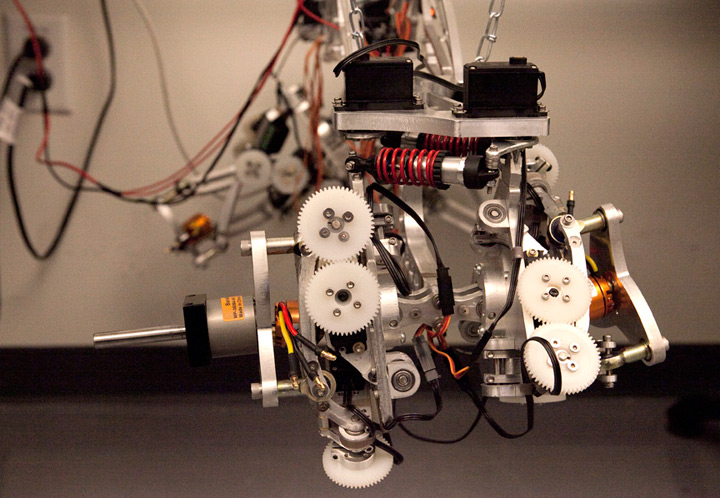 Much to his delight, an NSERC grant (along with funding from HYCONS and the Concordia Institute of Aerospace Design and Innovation, of which he is a member) allowed him to once again work full-time on the project over this summer. This is not his first experience with NSERC-funded research. In the summer of 2009, he worked with Mechanical and Industrial Engineering Professor Paula Wood-Adams on the uses of a biodegradable plastic material in manufacturing.
Though, it's not like the lack of funding and partnerships with Rodrigues or Wood-Adams would've stopped him. He's been building machines since high school. It's a passion that lodged a $10 000 computer numerical controlled milling machine in his garage (well, the garage of his parents, Design and Computation Arts Chair Rhona Richman Kenneally and Principal of the School of Canadian Irish Studies Michael Kenneally). The equipment is used to cut precise shapes from metal – an instrument he was able to afford with money raised as a freelance machinist.
The partnership, however, has been invaluable to both Kenneally and Rodrigues. "The fact that a third-year undergrad is able to collaborate with such professors, grad students and labs to such an extent is an amazing opportunity," says Kenneally. "It has added real academic credibility to something I'd be doing in my garage anyway."
He recently showed that credibility when he presented at the at the Institute for Electrical and Electronic Engineers/ American Society of Mechanical Engineers Conference on Advanced Intelligent Mechatronics, in July in Montreal. Surrounded by professors and graduate students from other schools as well as people from industry, he had the opportunity to share his ideas and receive feedback.
Did we mention he raised $10 000 as a member of the Concordia three-person team to Ride to Conquer Cancer in July 2009, the 300 km trek from Quebec City to Montreal, riding beside Rhodes Scholar Liliane Chamas? and that he's vice- President of the Garnet Key Society?
"Gavin's passion for engineering, dedication to research, his creativity and artistry, his drive for excellence is a perfect example of what outstanding students can achieve at our university," says Rodrigues.
---