Pedagogical hangover in sin city
Concordia students go on five-day learning spree in Las Vegas
September 20, 2010
|
Source: Concordia University Magazine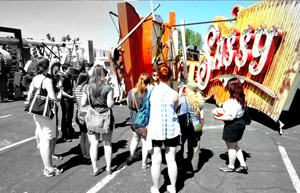 In the movie The Hangover, three groomsmen wake up in a Las Vegas, Nev., hotel room after a night of carousing to discover a baby in the closet, a tiger in the bathroom and a police cruiser parked under their name. And one groomsman is missing a tooth.

The Hangover became a surprise hit in 2009. Even more surprising: it inspired Giuliana Cucinelli, BA (comm. studies) 03, and her 13 Concordia Communication Studies students to embark on a whirlwind, five-day trip of their own to Las Vegas at the start of May.
While the group frequented casinos off the strip, they actually spent precious little time at the gambling tables. Unlike the movie's main characters, the students set out to admire the architecture, visual mastery and dynamic history that only a city like Las Vegas exudes in such excess.

They documented the trip by photographing and filming their surroundings—including the incandescent Eiffel Tower outside the Paris Hotel and the musically themed fountain displays of the Bellagio Hotel—fodder for an interactive documentary film to be completed this fall. Cucinelli instructed her students to capture raw data; anything that could be used for the final project. "I told them, 'Whatever you take, make sure it is from your eyes, from your perspective,' " Cucinelli says.

She also gave the students the full academic treatment, such as visits to conferences, lectures and museums to explore the history and design of Sin City. But in true Hangover fashion, a fair bit of spur-of-the-moment folly was also on the curriculum.

Scholarly perspective
Cucinelli, who is completing her PhD dissertation on youth media activism at McGill University, has been a lecturer at Concordia's Department of Communication Studies since 2008 and a Vegas aficionado since her first trip there in 2001.

It was Communication Studies professor Nikos Metallinos who first urged her to visit Nevada and witness the grandeur of the city, as well as attend a conference on broadcast education. Heeding that advice, Cucinelli flew down with her parents and began her love affair with Las Vegas's sky-high, yet delicately crafted architecture. "At the time, Vegas wasn't popular like it is today. What made it really popular were shows like CSI, which really boosted its image," Cucinelli says.

After developing a passion for the city's history as well, Cucinelli was surprised to learn there were others like her who had adopted a scholarly approach to Vegas. "I thought it was just something that I liked and then I realized there was a whole academic field to it—people were actually studying it. And I've noticed over the years, since the CSI boom, a lot more has been written, not just in terms of architecture but also about its clients and the history of specific hotels," she notes.

But in December 2009, Las Vegas was just a peripheral glint in Cucinelli's vision until her students in a Communication Studies media lab began discussing architectural design. "I said to them, 'The ultimate experience for anyone studying design—graphic design or any kind—is to visit a place like Las Vegas,' " she recalls. "And then one student said, 'Why don't we organize a trip to Vegas?' "

Cucinelli left it up to her inquisitive students to plan the journey. It wasn't long before she selected a group of 13 design- and media-minded students. With the administration's stamp of approval, flights were booked and bags were packed, while Cucinelli held regular meetings and assigned readings; after all, this was an educational trip.

The group booked a large suite at Planet Hollywood so everyone could room together. To help fund their accommodations, student Barbara Radziwon suggested selling cupcakes. Soon, bake sales (which included treats from Cucinelli's mother and grandmother) sprang up around the Loyola Campus and more than $1,100 was raised.

Cucinelli says the suite didn't disappoint. "It was humongous, something like 7,000 square feet with two bedrooms," she describes. "And 13 people crammed in, sleeping on cots. We got a pretty sweet suite."

Radziwon confirms the hotel's grandeur and resemblance to a certain film. "You walk in and you expect a hotel with a TV and two beds. But it was so over the top—with purple couches, overlooking the Bellagio fountains—and you automatically think of The Hangover," Radziwon says.

Science behind Sin City
To deepen their appreciation of the history of Las Vegas—from its mob-run beginnings in the 1940s and 1950s to the increasingly pervasive roles of government and large corporations—Cucinelli took her students to the University of Nevada, Las Vegas. They visited the Center for Gambling Research housed in the university's library and met David Schwartz, the centre's director.

"Students are sometimes surprised by how much of a business Las Vegas is. It involves a lot of math, like calculating the odds of the games and trying to guess occupancy rates at hotels and trying to determine how much you can charge," Schwartz says. "Most of the time, people don't know what gaming is; they think it's checkers or video games. But Giuliana's students were really sharp and it seems they got a lot out of the visit because they took the real-life stuff and combined it with what they were doing in class."

The centre, while not a museum, is open to the public, hosts collections of casino artefacts and preserves research materials for scholarly analyses of gambling and gaming issues. The students also received some hands-on experience—they even got to pull the lever of one of the still-functional, original Flamingo Hotel slot machines—and gained insight into the behind-the-scenes, psychological and communications intricacies.

The visit left a strong impression on student Adam Zampini. "It was interesting to hear Dr. Schwartz talk about casino design and how it relates to basic communications theory, like consent, navigation, surveillance and the works of [Michel] Foucault and [Michel de] Certeau," Zampini says. "But really, Vegas just comes down to humans' never-ending fascination with light. It's all about the stimulation."

Part of that stimulation lies in the centre's study of casino carpets, through which the students observed that certain patterns are meant to stimulate gamblers, make them feel like they are at a party or even lead them to specific tables and slots.

The students tested these theories for themselves, hopping from casino to casino to observe critical details overlooked by most tourists. "The carpet and wall patterns definitively navigate you and there is a distinct lack of landmarks, which is meant to confuse you, almost like a hall of mirrors," Zampini says. "It gave me an appreciation for branding and manipulation."

Radziwon says she also noticed influences, such as the smells and lack of chairs at most gambling hot spots. "They use different scents that make you want to stay longer in the casinos. The Wynn Hotel had a very strong vanilla scent which I found to be a little too much," Radziwon explains. "Also, if you want to sit down, you need to sit at a gambling table or slot machine. We picked up on all these small, psychological details."

The students also ventured to the non-profit Neon Museum (also known as the Boneyard), where vintage hotel and casino signs are preserved and displayed in an outdoor, junkyard setting. Cucinelli, who visited the Boneyard for the first time with her mother a few years ago, understood that it wasn't for everyone. "My mother said, 'They're just neon signs!' " she recalls. Most locals don't even know of its existence. Cucinelli reports that, thankfully, her students were just as excited to visit it as she was.

Cucinelli adds that the Moulin Rouge Hotel sign really struck her and her students as being something special, not only for its cursive typography and massive scale but also for what it represents. "It was designed by the same woman, Betty Willis, who designed the Welcome to Las Vegas sign; it's significant that a woman created one of the most popular signs in the world," Cucinelli points out. "Moulin Rouge was also the first hotel in Vegas that allowed African-Americans to stay in their hotel, one of the few that Sammy Davis Jr. could sleep in while the rest of the Rat Pack stayed at the Sands or elsewhere."

The five-day excursion, while organized around educational outings, did allow for some revelry. From casino pool-hopping to taking in the Beatles-inspired, Cirque du Soleil show called LOVE at the Mirage Hotel, the students found time to cut loose. After all, what's the point of being in Vegas if you can't indulge?

Documenting the experience
Now that Cucinelli and her students are back in Montreal, they're compiling their Vegas data and applying it toward an interactive, documentary project. They're working with editing software that allows the end-user to create his or her own storyboard from the images. "So it's not just sit down and press play," Radziwon explains.

As for Cucinelli, she plans to write a paper about the experience. "My aim, once my dissertation is done, is to write a book about Vegas, including the whole historical aspect of it," Cucinelli says, adding that she was taken aback to discover that the highlight of her trip wasn't visiting the hotels or museums but something more profound. "The last day, when we were at the airport waiting at the gate to go home, I realized that for five days I was able to transfer something that I loved to other people, to special people. I think I grew as a person and as a teacher," she says.

Cucinelli's three-year contract as a lecturer in the Communication Studies department ends this year. "I'd love to teach at Concordia for the rest of my life. I don't think there is any university in the world or any department in the world like Communication Studies; it's just a good place to be," she says. "When I wake up in the morning and teach classes, I don't feel like I'm working."

Cucinelli and her students are organizing another trip to Las Vegas next summer that will include a road trip to Los Angeles, yet another resemblance to the ubiquitous Hangover, which "is always in the back of your mind when planning the trip," says student Adam Zampini. "We just don't want to wake up with a tooth missing!"

Adam Avrashi is a Concordia Journalism student and freelance writer.

---