Staying warm north of 65
Master's student tests prefab housing structure for use in Nunavut
September 13, 2010
|
Source: Concordia Journal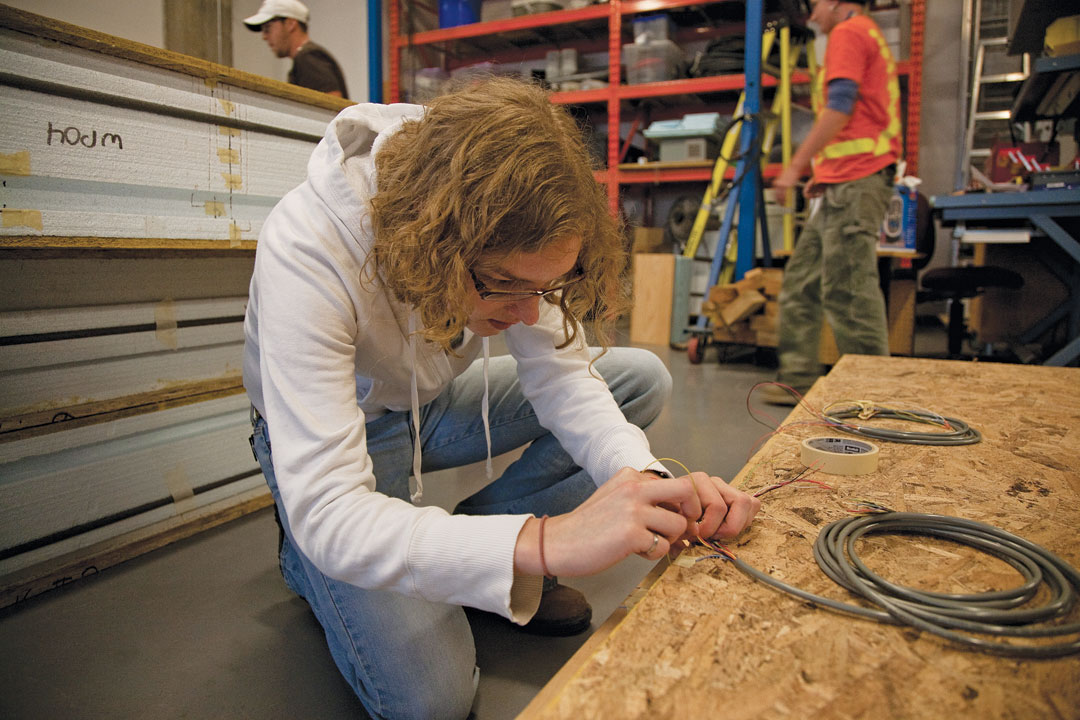 A 2009 government report cited Nunavut's housing crisis — the current need for 3 600 units grows by an additional 275 units annually — as one of many urgent problems for the region.
The crisis requires production of affordable housing able to withstand an annual temperature range between -40° and 10°C. "The biggest challenges are always in extreme climates – either very hot or very cold," said Building, Civil and Environmental Engineering master's student Sara Wyss.
Wyss is part of the only university project in Canada testing a brand new product developed by DAC International in Ontario. She is currently preparing to test the performance of the wall panels in a makeshift laboratory on the ground floor of the EV Building. Her findings may influence how the panels are installed and used.
The Nunavut Housing Corporation received the components in early August to build 142 houses this year. The structures need to be up before winter cuts the construction season short.
"This material didn't even exist 13 months ago," Wyss said. "They've gone from zero to finished houses within a year. This is beyond a simple pilot project because of the scale."
The system involves prefabricated panels of sandwich board – solid Styrofoam sandwiched between sheets of wood. Although Styrofoam may seem unlikely as a green building material, Wyss says the project fits within the interest in green construction practices she developed as an undergrad at McMaster.
"Styrofoam can't be affected by mold or water and it doesn't degrade like organic insulation would," says Wyss. " It will continue to perform at the same level as long as the house is standing."
Wyss added that manufacturing the pieces in the south reduces the costs involved in transportation and disposal of excess material that would be inevitable if raw materials were cut on site. The panels are also lightweight. The thickest ones, about 14" deep and used for floors and ceilings, can be moved easily by just two people.
Once Wyss decided to continue her studies in building engineering, Concordia was the obvious choice. Wyss came to work with Paul Fazio, an acknowledged leader in the field. "Dr. Fazio is the building envelope guy, especially with sandwich panels, his own PhD work was on them."
Fazio learned of the Nunavut project at a conference in November 2009. DAC International had invested a lot of money in the manufacturing process of the sandwich boards and wanted to be sure the process was solid.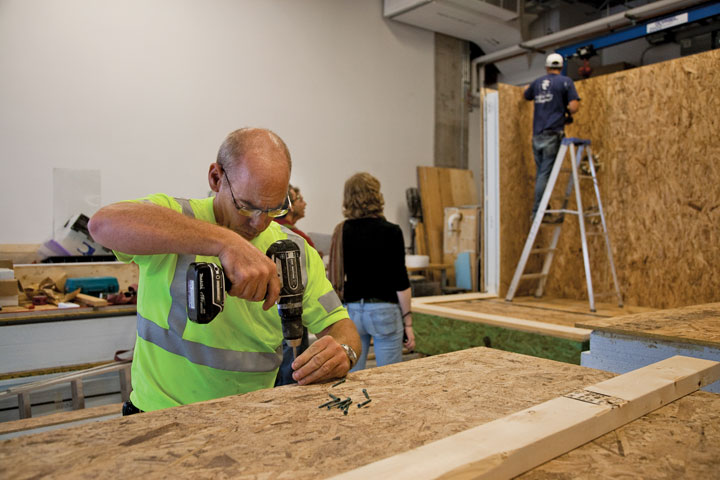 Houses will be constructed above the permafrost with a four-foot crawl space underneath the living space to store water and fuel in communities where there are no standard water pipes or electrical services.
The durability of Styrofoam is not in question. What is of concern is just how airtight the structures will be, once built.
"Air is what moves heat and moisture, so the key is to test the transfer points, where panels meet. Those are always the weak points."
Initial testing has determined that the houses, when properly constructed, allow no more than 0.2 air changes per hour, seven times better than the Natural Resources Canada R-2000 standard for residential construction.
Wyss will test heat and moisture transfer using a model hut constructed in the EV Building. Although plans are in the works to build an environmental chamber in the Hall Building, the work won't be finished in time to collect results before this winter.
So Wyss and her team have ordered a chiller capable of generating -30°C that will allow them to test the structure from the inside out. Wyss spent August developing a sensor system that will measure heat and moisture content as well as pottentially identify areas where air leakage occurs at the hut's sensitive transfer points. Her experiments will also involve infrared photos of transfer points.
"The hardest part of research is just reading other people's work. But that's mostly behind me so the fun part is about to begin."
Wyss talks more about her research project:
---