Concordia designs content for summer administration program
School of Extended Learning takes lead at Quebec Institute for Lead Learners
August 30, 2010
|
Source: Concordia Journal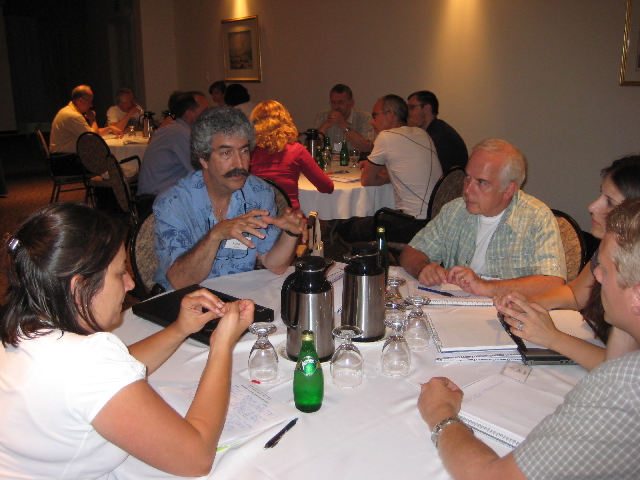 Current and potential school administrators gave a glowing report card to an innovative and intensive development program held this summer and Concordia was responsible for its content.
The second edition of the Québec Institute for Lead Learners (QuILL) took place July 5 to 9 at the Hôtel La Sapinière in Val David, Qué., under the theme "Educational Leadership in Changing Times."
QuILL is a five-day, 30-hour seminar for current and aspiring leaders in school administration.
Principals, head teachers, advisors and consultants can take part in this summer institute that allows participants to expand their skill sets and develop their tool kits in a retreat setting. Sixteen "lead learners" took part in this year's week-long event.
QuILL is an initiative of the Leadership Committee for English Education in Quebec (LCEEQ), a professional community advancing English-language education in the province.
As with similar associations in other provinces, it supports innovative minority language programs using funds designated for the purpose under the Official Languages Act. The LCEEQ subsidizes QuILL, waiving all registration fees, so participants pay only for accommodations and meals.
This year, Concordia was awarded the contract to set the program for the week. The university's School of Extended Learning (SEL) took on the task, designing the themes, organizing the content and collaborating with LCEEQ to recruit the presenters.
Richard Bastien, Director of Special Projects at SEL, said, "To be administering a school these days is to be administering change." With that in mind, each day was organized around a theme, "and each dealt with a different aspect of change." These included managing resources, governance and control, and transforming school culture.
Bastien said participant feedback was extremely positive. Everyone seemed very pleased with the "world-class local and international presenters" who were recruited.
These included Michel Magnan, professor and Lawrence Bloomberg Chair in Accountancy at the John Molson School of Business. Magnan led the Wednesday workshop on governance -- where participants enacted a Governing Board meeting -- bringing a broader, business-oriented perspective to school administration.
Participants appeared delighted with their week. They agreed that if repeated, they would recommend the project to a colleague. All involved expressed the hope that the positive word-of-mouth will help to establish the summer institute as an annual event.
Kevin Boyle, senior school science teacher at Selwyn House School, said, "Presentations were clear and enlivening. Questions were answered completely. The "role playing" of the Governing Board meeting felt intensely real. It was emotionally educational, and I will remember it for the rest of my life."
Lise Huppler, a learning specialist at Lower Canada College, said, "The speakers were truly excellent. I feel inspired and energized. I have quadrupled my tool kit. As a young teacher, I came here with ideas, and I feel that I am leaving with action plans."
John Ryan, coordinator at LCEEQ, who acted as host for the week, said Concordia's involvement gave the institute "a very professional air about it. It was a very intense week, a very well put-together program."
---