MBA candidates mentor high school students
Business students mentor at The Study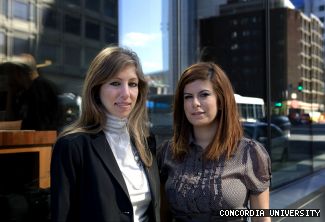 It's hard to believe that grade nine students at The Study, a private K-11 school for girls in Westmount, are conducting market studies, examining consumer behaviour, and producing promotional items for Quebec companies.
Not only that, they're packing their bags for Jiangmen, China, in May to take part in a trade show.
How are they doing it? With a little help from the John Molson School of Business.
MBA candidates Sherin Al-Safadi and Mirella Mokbel have been heading up to the Boulevard twice weekly since February to mentor the students.
Amid high-pressure case studies, presentations and exams, answering their questions has helped Al-Safadi stay grounded.
"It showed me the importance of working with people in other age groups. It was a challenge," she says. "But very rewarding."
This is the second time JMSB students have volunteered at The Study through a special partnership with the Faculty.
"It was a bit surprising to see how strong and opinionated they are," says Mokbel, who jumped at the opportunity to get involved after speaking with a student who participated last year.
"At first, they're intimidated by you and you're intimidated by them," Al-Safadi says. Both agree the girls are very intelligent and motivated.
The students were responsible for conducting their own research and finding local companies who might be interested in selling their products on the Chinese market. Some even speak Mandarin; the school offers courses starting in grade five.
Though the teacher, Philippe Guillem, was always present, Al-Safadi and Mokbel took over, roaming from group to group for status reports and problem-solving. They decided to focus on organic products, such as ice wine, cream and nuts. Last year, many of the products were sold successfully.
This isn't the first time Al-Safadi and Mokbel have worked together. They spent last summer on exchange in Germany and organized the John Molson MBA International Case Competition. They also had their hands full with other responsibilities: Al-Safadi was president of the Commerce Graduate Students' Association and Mokbel headed the John Molson Women in Business Club. "We have strong synergy," Al-Safadi says.
Mokbel adds that strong teamwork is vital. "At the end of the day, you have to be able to work with different characters and opinions," she says.
For more about Concordia's MBA program, visit the John Molson School of Business.
---