Concordia and UQAM present four priorities to optimize the potential of Montreal's institutions of higher learning
Montreal, May 24, 2017 ― In their recent presentation of a joint brief before the Commission sur le développement économique et urbain et l'habitation de la Ville de Montréal, Université du Québec à Montréal (UQAM) and Concordia University emphasized that the presence of four major, international-calibre universities, some ten institutes and specialized schools and a dozen colleges represents an immense benefit to the city.

"We are pleased that the City of Montreal is considering a partnership with its key knowledge institutions. This agreement will further strengthen the ties that have made Montreal 'the best student city in the world,' " says Concordia University president Alan Shepard. "Universities, with their vital forces and their expertise, constitute an invaluable asset for the city's development."
"Institutions of higher education play a key role in the city's economic, social and cultural development. The university hub is particularly effective as a lever for innovation. Indeed, this was shown in a recent study of the Board of Trade of Metropolitan Montreal and Montréal International. It is vital that we make the best use possible of the tremendous potential represented by universities, to the great benefit of the city and of all its citizens", said UQAM president, Robert Proulx.
Concordia and UQAM, building on their urban character, their shared values of inclusion and accessibility, their roots in the community and their many academic collaborations, have targeted four priority areas where action can be taken to maximize the potential for the economic development and innovation offered by Montreal's institutions of higher education.
That Ville de Montréal actively promote the metropolitan centre as a city of knowledge, a city of culture and a progressive city, and that it recognize and affirm publicly the vital contribution of its higher education institutions in this regard.

That Ville de Montréal put in place a municipal public service access program for Cegep and university students and graduates coming from institutions across its jurisdiction. The changing role of cities demands the new skills being mastered by the upcoming college- and university-trained generation. A two-part program to renew the municipal public service should be established: one that awards internships to college and university students, and a second that promotes the hiring of Cegep and university graduates by Ville de Montréal.


That Ville de Montréal make systematic use of the expertise found in higher education institutions for its major metropolitan projects, whether one-time or recurring. The City should therefore allow university representation on the different committees and working groups active in urban development and should give preference to university researchers and creators when it seeks expert consultants. For example, the expertise of UQAM and Concordia could have been put to greater use in the thoroughfare reconstruction project on Rue Sainte-Catherine, where both universities actually have a brick-and-mortar presence.


That Ville de Montréal support startup businesses, notably through partnerships with establishments of higher learning and through its goods and services procurement policies. Startups are hubs of creativity, ingenuity and innovation for the city and must be better-supported. For example, the work of such business incubators as MT Lab, established by UQAM, Tourism Montreal and Ville de Montréal, and District 3, created by Concordia, could be boosted by the inclusion of a "startup business" clause in the City's goods and services procurement policies.
In concluding their joint presentation, UQAM and Concordia commended the City of Montreal for its recent initiative to strike a formal collaboration agreement with universities, specialized post-secondary schools and Cegeps in its jurisdiction. It is a step toward the establishment of a true, dynamic partnership between the City and its institutions of higher learning. The two universities expressed the hope that they will have the opportunity to participate concretely in such a partnership and return in one year's time to reflect on all that will have been accomplished.
Source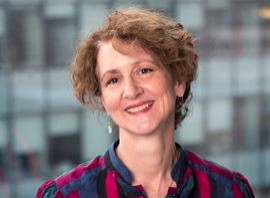 Find an expert
Search for an expert to comment on any topic
Enter a phrase or keyword
---