Hey friend, say friend…it's time to rethink Expo 67
Concordia podcast provides behind the scenes glimpse into upcoming In Search of Expo 67 exhibition
Montreal, April 26, 2017 - The minirail, Buckminster Fuller's Dome, smiling hostesses, Habitat 67, passports and more… all part of the fabric of Expo 67, Montreal's iconic World's Fair. A new exhibition of contemporary art is marking Expo's 50th anniversary in a different way, with works that reimagine elements of the fair.
Can Expo 67 resonate with a new generation through contemporary art? The answer comes in In Search of Expo 67, co-curated by Monika Kin Gagnon, professor of communication studies in Concordia's Faculty of Arts and Science and director of the Concordia University research group CinemaExpo67, and Lesley Johnstone, Head of Exhibitions and Education at the Musée d'art contemporain de Montréal (MAC). Sixteen artists, ten of whom have links to the Faculty of Fine Arts, were invited to create contemporary works, using Expo 67 as a point of departure, that will join three existing ones when the exhibition opens at the MAC on June 21.
"As curators, we supported the artists in their archival research and worked directly with each of them in the development of their projects. Eschewing any sense of nostalgia, the exhibition explores the resonances between what Expo 67 was and what remains in 2017. The artists will offer visitors new perspectives on some of the most innovative and experimental aspects of the event," explains Johnstone about the multifaceted project.
In the weeks leading up to the opening of the exhibition, Gagnon provides a behind the scenes glimpse at this ambitious research-creation project. Starting April 26, she will host an eight episode Thinking Out Loud (TOL) podcast mini-series for Expo 67 and contemporary art fans of all ages.

TOL connects big ideas, university research and public interest. In the Expo 67 mini-series, Gagnon speaks with some of the artists whose work will be featured in In Search of Expo 67 about how they used the fair as a creative springboard.
"The artists of In Search of Expo 67 have journeyed from the fragmented archives, images and stories of Expo 67, to imaginatively create lively artworks that resonate with past, present and future all at once," says Gagnon. "The podcast will give listeners a glimpse into the artists' creative process. The conversations explore how Expo 67 impacted and still permeates Montreal's imagination and visual culture, making it supremely relevant still today."
For more on Thinking Out Loud - Expo 67, listen to the trailer. New episodes will be released on Wednesdays.
Source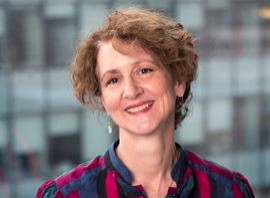 Find an expert
Search for an expert to comment on any topic
Enter a phrase or keyword
---