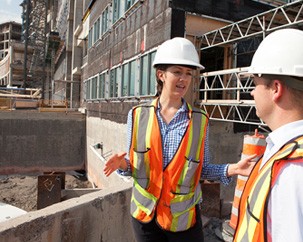 Our alumni are an extremely valuable resource for Co-op. If you were a Co-op student, you know how much Co-op enhances the university experience, clarifies your career choices, and leads to better full-time work once you graduate. Now you can offer those same opportunities to our current students, and enjoy the benefits of being an employer.
Here's how to hire a student.
Co-op to Industry Mentorship Program
Deadline to apply for the 2016-2017 cohort is Monday, October 3, 2016
A Co-op senior student (mentee) is paired with a Co-op alumnus (mentor). Together they participate in a mutually beneficial learning experience, the objective of which is to help the senior student transition smoothly from school to the working world. The Institute for Co-operative Education is responsible for coordinating the Co-op to Industry Mentorship Program and offers professional development opportunities for both mentees and mentors.
If you've graduated from Concordia's Co-op program, we want to hear from you. Let us know if you want to:
Hire our Co-op students
Volunteer to share your experience at one of our Career Panels or Speaker Series events
Have feedback for our program
Simply keep in touch
As an alumnus of a Concordia Co-op program, you can expect:
Invitations to special events, cocktails, lectures, etc.
To reconnect with fellow Co-op alumni and classmates
To connect and network with alumni from other years
Continuing learning and growing opportunities through Concordia's faculties
We encourage our Co-op alumni to join our LinkedIn group. It's a great way to stay in touch with each other. The group is also an opportunity to connect with current Co-op students, keep informed of career search resources, learn about full-time job opportunities, and discuss industry trends. Be sure to indicate on your LinkedIn profile that you were a member of Concordia University's Institute for Co-operative Education.
You can also stay connected to Co-op by following us on Twitter and Facebook. And always feel free to drop by our office, email us, or call us at 514 848-2424, ext. 3950.