President's Reunion Gala: The way we were
Graduates from Norway to Minnesota to Ottawa came together as part of Concordia's Homecoming 2012 to celebrate their past and toast the future of the university. More than 160 guests took part in the annual President's Reunion Gala on September 29 as they relived sweet college memories of yesteryear.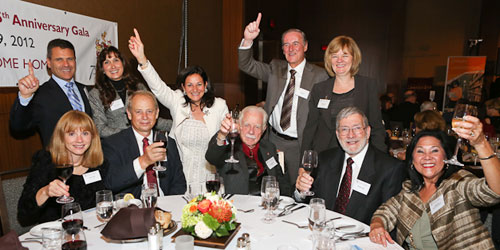 The gala was held at Montreal's Westin Hotel where guests also celebrated the diamond or 75th anniversary of the Association of Alumni of Sir George Williams University over a hearty dinner punctuated by live music from Vintage Wine.
Tributes were given by class representatives and alumnus Philippe Pourreaux, who is president of the Concordia University Alumni Association, won a Caribbean cruise for two, sponsored by Voyages Groupe Ideal and Azamara Cruises.
"I love alumni weekends," said Concordia President Alan Shepard. "It's a special moment when people come back to campus."
Shepard spoke of Concordia's robust growth since the merger between Loyola College and Sir George Williams University and the university's approaching 40-year anniversary in 2014. "It has been a colourful and fascinating time for Concordia," he said.
The evening was deftly emceed by Global News anchor and Concordia grad Jamie Orchard, BA 91.
---