New president greets international students
Students hailing from 150 countries welcomed to the university and Montreal
The Concordia community is culturally diverse and enriched with more than 5,500 international students. President Alan Shepard recently welcomed students hailing from 150 countries to the university and to Montreal.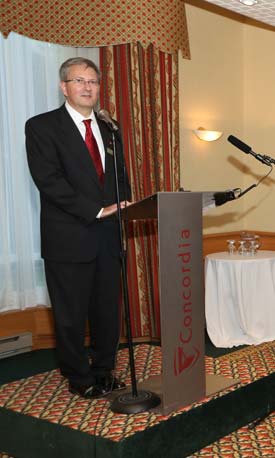 During the President's International Students Cocktail Reception, held at Montreal's Nouvel Hôtel & Spa on September 13, Concordia's leader encouraged students to make the most of their time at the university, to participate in extra-curricular activities and societies and take advantage of opportunities to learn French and engage in the culture of Quebec.
"We're thrilled that you've chosen Concordia," said Brad Tucker, associate vice-president, Student and Enrolment Services, who emceed the event. He introduced students to resources at the university, including Concordia's international students office, health services and the work-study program.
Co-president of the Concordia International Students Association, Derek Mosfi from Dubai, invited his fellow students to take part in the association's many opportunities to network, travel and have fun.
On hand to greet students and answer their questions were senior administrators, deans, associate deans and representatives of the International Students Office.
"It's interesting for me to meet high-level administrators and students from other nationalities," said Elnaz Moein from Tehran, Iran, who is enrolled in graduate studies in quality systems engineering.
The event attracted 141 students from 31 countries, including France, India, Denmark and Burkina Faso as well as members of the diplomatic corps from Spain, Morocco, Russia and France.
---