An oasis of drinking water on campus
Filling reusable containers at campus fountains is as easy as pushing a button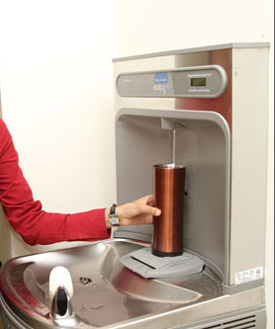 It's now a lot easier to refill water containers at campus fountains. Simply place a container under the spout of one of the new water fountains and push a button. Concordia's year-long project to upgrade 56 water fountains on both campuses to accommodate reusable containers was completed earlier this month.

Forty fountains were retrofitted and four new ones installed on the Sir George Williams Campus while 10 fountains were retrofitted and two new ones installed on the Loyola Campus.

A consulting group led by the Office of the Vice-President, Services, which included Facilities Management, student groups and Sustainable Concordia, assessed drinking water needs to determine the best way to provide the service.

"Our focus was to eliminate unnecessary plastic on campus and to encourage tap-water consumption," says Faisal Shennib, the environmental coordinator for Sustainable Concordia. "The new water fountains are in demand. They make filling a reusable bottle more practical, which encourages people to use their own water containers on campus."

The consulting group selected the Oasis brand water fountains for their eco-friendliness, cost and durability. They look like typical water fountains except for a tray built into the wall above onto which users place their containers and then push a button to release water from a spout, much like a coffee machine.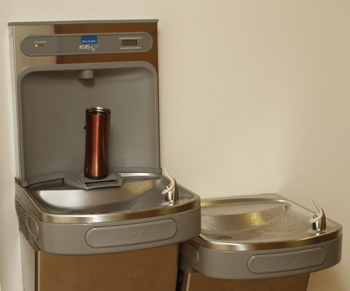 Sebastien Chenier is a human relations student on the Loyola Campus and he thinks the new fountains are a great idea. "There's not much difference between Montreal's tap water and bottled water and I've always believed bottled water is a product we don't need," he said.

The cost of the project was $180,000. Initially, it was to be a three-year project to upgrade 144 of the university's 235 fountains. However, the high cost prompted another strategy.

"We will take ongoing opportunities to retrofit the remaining fountains during building renovation projects without imposing specific timelines," says Jean Pelland, director of project management for Facilities Management.

The water fountain initiative was first raised by students and embraced by the university, which supports sustainable initiatives on campus.

On the Sir George Williams Campus, the updated fountains are located in the Engineering, Computer Science and Visual Arts Integrated Complex, and the John Molson School of Business, J.W. McConnell Library, Henry F. Hall and Visual Arts buildings (EV, MB, LB, H and VA buildings). On the Loyola Campus, they are located in the Central, Communication and Journalism, and Psychology buildings, as well as in the Richard, J. Renaud Science Complex, Vanier Library and Recreation and Athletics Complex (CC, CJ, PY, RA, SP and VL buildings).
Read related Earth Day articles.

Related links:
• Office of the Vice-President, Services
• Sustainable Concordia
---