Daring HIV/AIDS lecture series turns 20
Ground-breaking program marks a milestone anniversary with a lecture on January 31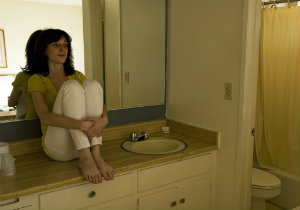 Within 24 hours of testing positive for HIV, Lara Roxx became part of a media frenzy. The young Quebecer was among those working in the Los Angeles porn industry in 2004 who had their names published by the city's Adult Medical Center as having been exposed to the virus.

Concordia MFA student Mia Donovan couldn't get over how the media sensationalized the story. "Some even made jokes about the situation," Donovan recalls. "I saw during one television interview how vulnerable Lara was, but at the same time strong."

Donovan contacted Roxx and over the next six years they made the documentary Inside Lara Roxx. The film exploring the impacts of the porn industry and HIV will be part of the 2012-13 Concordia HIV/AIDS Lecture Series.

"We're really excited to show the documentary and to have both Mia and Lara speak during the 20th anniversary of the lecture series," says Thomas Waugh, Concordia University Research Chair in Sexual Representation, and director of the Concordia HIV/AIDS Project that includes the series. "Some of what they'll say will be controversial – at least I hope so."

The series has never steered clear of controversy. "When we started the series in 1993, it was still three years before effective treatments began emerging and we were still watching many of our students, teachers, colleagues and friends dying from AIDS," Waugh says. "It was in this atmosphere of crisis that Concordia felt a need to respond by sharing information with the community and engaging the public in meaningful discussions."

More than 85 scientific, medical, academic, social, arts and community leaders have been invited to speak over the past two decades. Guests have included Luc Montagnier, who received the Nobel Prize for identifying the human immunodeficiency virus that causes AIDS, and composer John Corigliano, who was awarded the Grawemeyer Award for the Symphony No. 1 he wrote in response to the AIDS crisis in 1991.

The series has also paid attention to the virus's global impact by inviting such guests as Winstone Zulu, an HIV-AIDS activist who was the first person in Zambia to make his HIV status known after he was diagnosed with it in 1990. "He really made us aware of how common it is for people in Africa with HIV to also develop tuberculosis because of a lack of preventive medicine," Waugh says.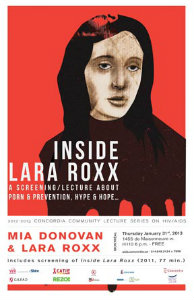 Inside Lara Roxx will bring the impacts of HIV closer to home by relating the experience of a Quebecer who was still in her teens when she was attracted to the L.A. porn industry. "I think what Lara wants people to realize more than anything is that while HIV is still a serious illness, it's no longer necessarily a death sentence," says Donovan. "It's amazing how many people who see the documentary are surprised to learn that she's still alive."
As for Donovan, she wants everyone to realize how much Lara Roxx is just like anybody else. "That's why I make documentaries: to have people confront their assumptions and biases," she says.

What: Inside Lara Roxx: A Screening/Lecture about Porn, Prevention, Hype, and Hope
When: Thursday, January 31 at 7 p.m.
Where: Alumni Auditorium, Room H-110 of the Henry F. Hall Building (1455 De Maisonneuve Blvd. W.), Sir George Williams Campus

A separate AIDS-related event is taking place on campus held by the Simone de Beauvoir Institute and the Concordia University Research Chair in HIV/AIDS and Sexual Health. Post-doctoral research on sexual health will be presented in French, though questions in English are welcome.

Quand : vendredi le 25 janvier de 14h à 16h
Où : L'Institut Simone de Beauvoir (2170, rue Bishop)
Présentation 1 : Isabelle Perreault, " « 69, année érotique ». L'institutionnalisation de la sexologie à l'UQAM."
Présentation 2 : Gabriel Girard, "Aux frontières de l'expertise : réseaux d'acteurs et médicalisation de la gestion du risque VIH chez les gais."
Présentation 3 : Elhadji Mbaye, "L'action publique intersectoriel entre politique d'immigration et politique de lutte contre le sida en France et au Canada: vers un rapprochement de deux modèles traditionnellement différents?"

Related links:
• Concordia HIV/AIDS Project
• Preview of Inside Lara Roxx
• "The deadly price of porn fame," – The Globe and Mail, February 3, 2012
• Mia Donovan
• Student profile of Mia Donovan
• Thomas Waugh
---