My Corona: students celebrate centennial
Concordia students plan 100th anniversary event for Corona Theatre
A Concordia theatre class will stage a once-in-a-lifetime production on December 3 and 4.

The undergraduate students have been creating a special performance to celebrate the 100th anniversary of the Corona Theatre, an iconic building on Notre-Dame Street West that has been a silent movie house, a vaudeville theatre, a movie location, and, for several decades, an abandoned building.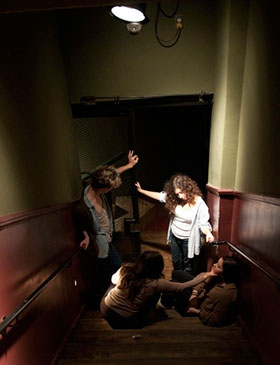 They became involved in the project after their professor, Shauna Janssen, was asked by members of the Point St. Charles Historical Society to create an event to mark the theatre's centenary. "It got me thinking about the pedagogical possibilities. It is very valuable for students to do a hands-on project," says Janssen, a theatre practitioner, curator and part-time faculty member of Concordia's Department of Theatre.

The result is that her 70 students are creating a series of short performances and installations inspired by the Corona's spatial history. The class will stage its production, called After/Après Les petites filles aux allumettes, in early December at the theatre. The event's title is a nod to Canadian artists Martha Fleming and Lyne Lapointe, aka Les petites filles aux allumettes. They staged an installation in the Corona in 1987, when it was still abandoned.

The students visited the theatre early in the term. "The idea was to let us explore the space ourselves, let ourselves be inspired by its history," says Jessica Alley, a first-year theatre student.

They took reference photographs of the theatre's nooks and crannies as well as its grand spaces, and in a subsequent lecture, learned about the historical and cultural context of the surrounding St. Henri/Little Burgundy neighbourhood at the turn of the 20th century.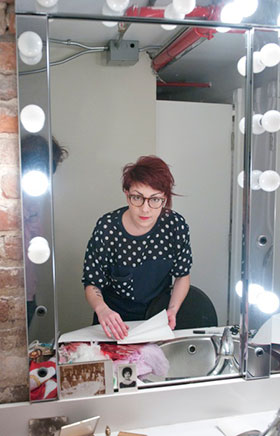 The class has been divided into groups of four to five students, each of which is responsible for an element of the event. Fifteen groups have created short performances or installations in areas throughout the structure, including dressing rooms, bathrooms, the box office, and different areas of the main stage.

One group will lead the audience (in groups of 15 at most) through each space. "We want it to be a narrative, with the audience going through the areas in a specific sequence," explains first-year theatre student Michelle Soicher. Taken together, these short sketches shed light on the broader tapestry of the theatre's rich history.

It's an unconventional aspect of theatre space and performance that the students seem to relish.

"This course has made me re-evaluate the way I understand the word 'theatre,' " says Alley. "The emphasis on site-specific performance spaces has broadened my perspective on where theatre can be performed, how a space can inform the creative process, and especially, what constitutes theatre."

Evenko, the event promoter/producer that manages the venue, is donating the Corona for two nights, while the $5 tickets will offset costs.

Janssen recognizes she asked a lot of her students, and she's proud of the way they've risen to the challenge. "This is the students' event: they are championing this celebration of the Corona's 100-year history. They are making it happen."

What: After/Après Les petites filles aux allumettes
When: Monday, December 3, and Tuesday, December 4, starting at 7 p.m.*
Where: Corona Theatre, 2490 Notre Dame St. W., Montreal
Cost: $5. Tickets must be purchased in person at the Corona Theatre box office between noon and 6 p.m., Monday to Saturday. Information: 514-931-2088

* Tickets are limited. Spectators will be guided through the site in groups of 15 at 15-minute intervals beginning at 7 p.m. and ending at 8:45 p.m. The public is invited to spend time in the theatre's cash bar before and after the tour, which lasts about 30 minutes.

Related links:
• Department of Theatre
• Corona Theatre history
• Point St. Charles Historical Society
• Collaborations by Martha Fleming and Lyne Lapointe




---